Sweet Promises and Even Sweeter Lies
July 19, 2015
Alone stared down at the edge of the universe.
Her toes hung over the precipice, and she wondered what would happen if she jumped. After all, there was nothing, in the most literal sense, past the Edge.
No darkness, no light, no space, no thing. Nothing.
But the urge to jump did not seize her as she expected. Instead, the nothingness seemed to call out to her to join it, to become nothing as well. It whispered around her and within her and into her very being. It embraced her as a friend might after decades of separation-- warmly, with the kind of bittersweetness that accompanies the possibilities of could-have-beens and wish-it-weres.
Alone tilted her face upwards, her torso leaning forward, and her breath escaped from its prison two seconds earlier than it was sentenced. She closed her eyes, preferring the darkness to the nothingness, but swallowed in exhilaration at the same time.
The nothingness beckoned once more, enticing her with sweet promises and even sweeter lies. She drew in a breath, readying herself to-
"Lone."
She was wrapped in a different embrace. The solid kind. The kind that provided true warmth and comfort and prevented you from jumping off edges of universes.
She turned around to face her girlfriend, Rose. Words failed at that moment, but Alone threw her arms around Rose's neck and pressed her forehead to Rose's. Relief invaded her and all she could sense was the feel of Rose's body and the scent of cocoa butter body lotion. A laugh fled from her vocal chords, and soon they were both attacked by fits of giggles and silent laughter.
Together, they stood on the brink of the universe. Laughing.
"Ah, come on, Lo. Jack already collected the samples, and Xandria's made her famous ham and ketchup sandwiches," Rose said after catching her breath.
"Oh, yess!" Lone crowed and punched upward triumphantly.
"You might be the only one in the entire universe who likes those things," Rose commented while rolling her eyes and smiling affectionately.
"The secret's in the way she roasts the ham, but Xandria won't tell me how she does it," she complained, already pulling Rose away from the Edge and walking toward those delicious sandwiches.
"I guess some things are meant to stay secrets," Rose laughed at her girlfriend's pouty face.
Alone turned and pulled Rose into a twirl then caught and kissed her softly.
"Yeah," she said, sadly, then added dramatically, "But, one day, I will have that recipe!"
Lone began marching to camp again while Rose trailed behind, simultaneously worried and amused.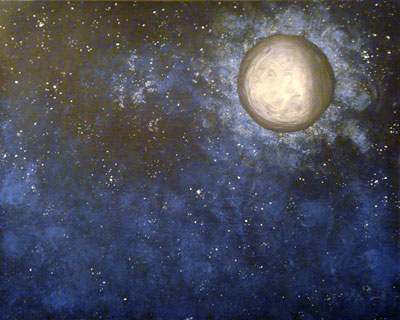 © Allison H., Vancouver, WA