An Eminently Incredible, Oscillating, Upbeat Tale
June 14, 2015
      An ordinary house with an extraordinary door.
      But, tensions brewed inside between an aunt and a nephew.
      "Charlie, a zoo comprised of a monkey, a tiger, and two giraffes doesn't just disappear!"
      "Disappear? Uncle's zoo was stolen! Have I ever told a lie?"  
      "Ever? I think not. However, what should we do before Uncle comes home with the boiled leeks for the tiger's stew?"
      "For heaven's sake, Auntie, we must find the zoo! Cages and all!"
      "Good heavens, those are gone, too?"
      He humphed. "Yes."
      "I cannot believe a person would steal a zoo with this dexterity in such a short amount of time-"
      Jam spattered the floor as Charlie rushed out the back door, knocking a jar off a shelf.
      Keeping away from the mess, Auntie gasped at the sight outside.
      Lightly bobbing above the trees in the backyard hung the zoo's cages, swinging from the bottom of a small dirigible.
      "My goodness! This is incredible. But where is the monkey? His cage is empty!" Auntie shaded her eyes.
      "Not just empty, Auntie," Charlie pointed. "Pete's right there!"
      On the other side of the windows of the dirigible's c***pit the monkey waved and made noises.
      "Pete, the monkey, is flying the dirigible?" Auntie gasped.
      Quite calmly, from being exposed to too many fantastic things in a short amount of time, Charlie nodded. "Yes."
      "Right now! Down!" Auntie shouted to Pete over the roar of the propellers.
      Snapping his fingers, Charlie ran around the side of the shed and grabbed the big bin of monkey treats. He lugged it into the backyard and emptied it.
      "Tell me," Charlie said to his aunt. "What monkey doesn't love dried bananas?"
      Up in the air, the dirigible wobbled. It descended very quickly, grazing the trees and setting some of the lawn on fire.
      Veiled by the smoke wafting upwards, Pete the monkey popped open the hatch and ran out. He greedily ate the banana treats.
      "What's going on?" called a jovial voice behind the aunt and nephew.
      "Xavier!" Auntie greeted her husband. "But what's under the sheet you have?"
      "You don't mean to tell us…" Charlie started, "You bought a…
      "Zebra!" Uncle Xavier said proudly, whisking the sheet off the newest member of the family.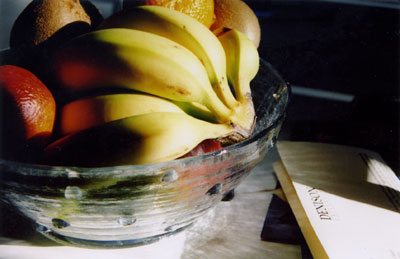 © Marty H., Bethesda, MD