Dream at a Bookstore
December 30, 2014
"I found a book at the bookstore today." said Audrey.
"What's it called?" her mom asked.
"It's about how to interpret your dreams!" she exclaimed.
"That doesn't sound very good or interesting." her mom pointed out.
"Well it does to me!" she said frustrated.
"Okay. It's your book. Just remember at the place you go to can't return books. Dinner will be ready in 2 hours!" her mom told her.
"Okay. Also I don't need to return it, I'll love this book," she said happily "I'm going to my room to start reading." As Audrey started to read the book she got kind of confused from the book.
"Uhhh. This is confusing! Maybe mom was right it's not that good or interesting. Wait. Stop Audrey I'm right I like the book and that's all that matters! Or is it?" she said confused. Later, that night after dinner she was getting ready to go to sleep and she thought it would be a good time to read the book. She started to fall asleep while reading the book and just put the book on her bedside table and got comfy and went to sleep.
That morning she woke up and thought
" Huh. I had a really good dream. I wan to go back to sleep. Oh crap. I have school." she said angrily. When she got to school she met up with her best friend Shea.
"Hey, Audrey!" Shea exclaimed.
"Hey, Shea!" she sadly exclaimed.
"What's wrong? Your always happy when we see each other again each day." Shea asked.
"Nothing. I'm just tired." she lied.
"Okay. You just sounded sad. So, about that birthday party you planned for me. Isn't it tonight?" Shea asked.
"Yeah. I thought I already told you that." She pointed out.
"Oh. Just remember I'm a blonde!" Shea joked.
"Yeah, a fake blonde your really just a brunet." She said angrily
"Ouch. Someone's grouchy. We always make fun of my hair together!" Shea said hurt.
"I'm sorry. I'm just so tired." Audrey pointed out. After school Audrey put up the decorations for Shea's birthday party. It was going to be fun! She had planned a pool party and tons of catering and games. She planned the perfect party. Except Shea didn't know how hard she worked on it.
At the party Audrey started to read her book again.
"Audrey come swim and have fun! After all you planned it." Shea exclaimed.
"No, I'm not in the mood." She pointed out.
"Party pooper!" Shea joked.
"Okay that's it! Everybody out! The party is over!" Audrey yelled. Shea got mad at her and stormed home. Audrey finally had time to read the book. That's when it happened. Audrey finished it and fell asleep. She was dreaming that she had everything she ever needed a best friend, tons of sweets, and a group of friends. Everything was perfect, until Audrey found out she couldn't wake up no matter what was the situation. She screamed and screamed and screamed.
"What's wrong Audrey" her friend Julie asked.
"Yeah we heard you screaming." Peyton agreed.
"Nothing I just want to go home and call it a night." She lied.
"Okay." they agreed in unison.
"Your going the wrong way, Audrey!" Megan exclaimed.
"Other way!" Julie corrected.
"What?" Audrey asked
" You moved! Remember?" Peyton reminded.
"Show me where I live now. I keep forgetting!" she lied. When she got home she ran up the stairs to her room and went to sleep hoping that this was all a dream.
When she woke up she found out it wasn't a dream. It was real. Audrey couldn't believe it!
"Audrey! Megan, Julie, Peyton, Shea, and Rebekah are here!" her mom called.
"Coming! Let me get dressed!" She exclaimed. When she got dressed she came down the stairs and said goodbye to her mom and left.
"What was up with you last night?" Rebekah asked.
"Yeah. You were acting all weird!" Shea exclaimed.
"Oh. Nothing I was just really tired. Now I'm fully refreshed!" Audrey showed.
"Okay. Well let's go to the mall!" Megan yelled.
"Whoop whoop!" they all screamed together. At the mall they went shopping the whole day.
"That was fun," said Audrey
"I'll see you tomorrow! Bye!" screamed Audrey.
"Bye!" they all said in unison.
At home she ate dinner with her family and then went to bed. When she woke up she found out that this was reality. Audrey found out Julie, Megan, Peyton, Shea, and Rebekah were really her best friends. She found out that she never bought that book, she never fell into a deep dark sleep, and she had everything she could possibly want. She had the perfect life.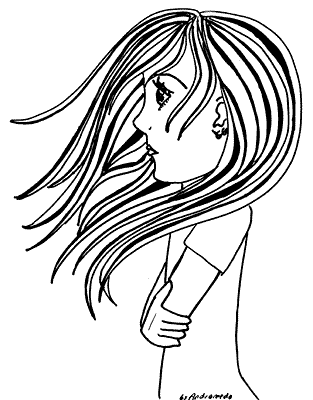 © Andromeda M., Milford, CT