Why Must I Start Now?
July 5, 2014
1857
I can't help but think this isn't happening. In all of my 23 years, I have never heard of someone being attacked by a vampire, vampires aren't even real, but yet I'm running from one, I know that I won't last long. I can't help but run. I feel a pressure on my shoulders and I'm falling backwards, it's only late afternoon, so how is she out, in all the myths I've heard vampires can only come out at dark.

Once I've completely fallen I see her go to her knees beside me. I can tell that she had just fed recently, she hadn't bothered to wash her face, so she still had their blood dripping from her face, landing on the leaf covered ground. I could hear animals walking around, barley though, through the ringing in my ears. Now she is lowering her face to my neck opening her mouth, preparing to bite down.

And she finally does.

2011
It's bee over 150 years since I was bit, but I have still failed to bite another human, I strictly eat only animal blood. I know that other vampires don't think I deserve to be a vampire but I didn't exactly get to choose to be one. There are roughly twenty-three thousand vampires now, so if we don't stop feeding on humans their entire race will be wiped out. With animals, they cant turn into vampires, so if you don't drain them dry then they will go on living a normal life, but with humans if you drink only a little bit of their blood they change.

My name is Adrian Saunders, I know it sounds like a girl's name, but in the 1800's people believed that names shouldn't be strictly a boy's or girl's.

"Adrian are you coming or not," Liv shouts from the doorway of my apartment, her fire red, ankle length dress, flowing smoothly behind her.

"Yeah, one minute!" I shout back, standing up to tuck in my red shirt of my tuxedo. I guess I should mention that I'm a poet and tonight me and my girlfriend are going to my first debut, because I just published my first book of poems.

"Hurry up or were going to be late!"

"No were not we still have an hour."

"It's a forty-five minute drive."

"We'll still get there fifteen minutes early," I shout back to her getting annoyed.

"Not if you don't hurry!" she cries, getting a whiny tone in her voice.

I guess I should also mention that Liv is the sister of the girl who changed me, Liv is the one who found me lying on the ground, blood pouring from the bite on my neck. We haven't seen her sister since that day, I seriously hope she was staked. One can only hope.

"'Kay, come on," I say to her grabbing my keys off the table in front of me, and walking towards my front door.

"Were going to be late now," she says storming off down the hall.

"No were not, we'll be ten minutes early!" I call after her, but she ignores me, so I run to catch up with her.


We showed up to the debut five minutes before it started, but already in not even ten minutes I have signed fifteen books, sold about forty books, and had been congratulated by a dozen or so people. As soon as we got there Liv left my side to go join some of her friends.

"Hey Adrian," my friend, Stefin, calls to me, quickly getting closer. "Congratz dude, even though its kind of dumb for a vampire to write when he could be traveling the world."

"I've traveled the whole world, so now I'm taking a break and writing."

"Why?"

"It's relaxing."

"Whatever," he says and walks away.

Suddenly I start to smell blood. When was the last time I ate? This morning, crap. Liv is looking over at me with a worried look on her face, I guess my fangs came out.

I hold up one finger towards her to say 'One minute,' and I put a hand up to cover my mouth up, and I rush out the doors of the debut, I'm in an alley way now, but still, I smell blood. I look down the alley, and there's a little girl sitting in the corner, the vampire inside of me completely takes over and I see myself running over to where the little girl is sitting, picking her up, and lowering my mouth to her neck. I can faintly hear her screams, but that makes me want to bite her even more. I bite down, her screams abruptly stop and her body goes limp in my hands.

I stop and check her pulse, she's dead.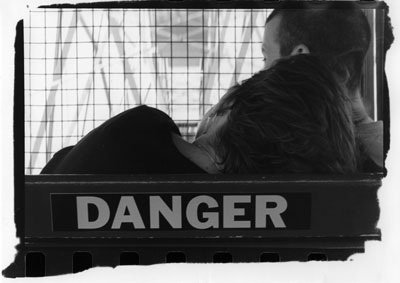 © Katie P., Bethesda, MD