Galaxy of Longing
December 30, 2013
Oh, such things in this wide world, a starscape of wishes, hopes and twinkling dreams. My heart leaps and falls with the changing tides and with it, my desires dear and memories, fading even as I breathe. A universe apart, are we, weak willed to speak in the silence and though we both know, we are not brave.

The heart pulls, tugs at things light years from this small place, pretty things so precious and despite its' force, gravity makes dreams fall. The sun was too hot to sojourn upon and with sorrow, we could not meet there. I sent you a stardust telegram instead, in the hollow hope of reaching you before the moon had time to wan.

Across the expanses, every passing ring a reminder of what was lost and little by little, the scorching beams of sunlight melts even the ice on Pluto. My hands reach out to touch the last lonely rays as they fade away forever and still, the heart longs. In a murky nebula where you are not found, still believing you will be found, in time, for time is all I have in this wide world.

Pulsing light, one of who knows how many billions, somehow your light will match mine and hearts will become fused together until no force on earth or in space can re-establish the separate selves. So I will swim slowly across this galaxy of longing and hope we'll one day land on the same dying star, and we will finally see the dawn of a new delightful dream.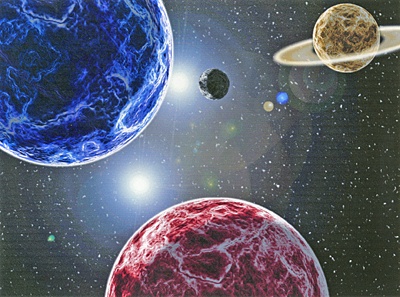 © Alex D., Phoenix, AZ