A Companion
November 30, 2013
I have lived for millions of years, years upon years, blurring into a mess of time. I wander and wander, in this murky land with its unbearable blackness and eerie chilliness. The coldness is liquid fire, seeping into my bones, and engulfing my inner being in a tomb of pain.

Alas, the darkness has not finished me off yet, but I know it will soon. Still I wander this vast land alone. What an appalling place to be, with the stench of decaying bodies suffocating you and the great nothingness of this black, rotting air as it stretches infinitely with no escape from its confines!

I used to wonder if there is such thing as joy for somebody like me, when everybody I have come across seems to abhor my presence.

Miraculously, I have discovered an acquaintance. She has come to this land willingly. She does not bring me felicity, but she offers companionship and contentedness. She does not take away the darkness, but she makes it easier to bear. For these negligible reasons, I love this girl.

Here I enclose her story.

My first direct encounter with her was depressing. Her mother had perished in an unfortunate car crash—it was unneeded, for she spurned me and could not have served as a companion—and the young girl of five bawled with blazing eyes for nights on end, wailing for her poor mother. I regretted that one as young as she should experience such tragedy. Yet I did not regret my actions.

I did not interact with her much over the years, instead watching from afar like the shadow I am. She grew into a pretty girl, euphoric and savoring life. She seemed to have discarded the tragedy from earlier in her childhood as she danced and sang with hearty lungs and smoldering blue eyes. I would have depicted her as the epitome of joy, a representation to others of the wonders that lay hidden in life.

Around her thirteenth birthday, we met again.

She was the reason this time, purposely seeking me out and beckoning me into her life. Her bliss was built upon pillars of salt and sand, and somehow a furious wind had toppled them. Ah, this evil, unforgiving wind—how grateful I was for its vigor!

I hailed no response to her madness, silent and unresponsive as I am.

I do not feel guilt when I admit that I was glad for her pain, for it was pain like my own and I relished that there was someone to bear the burden alongside.

She was utterly desolate, isolated from the world and I did not interfere. I could not interfere with such a situation. Quite ironic, considering the predominance I wield—but in the end, I am as powerless as any mortal.

I did not intervene when I saw her beautiful form perched delicately on the roof of a breathtakingly lofty office building. The city breathed beneath her feet, a living mass of traffic and pedestrians. I dared not look down upon the scene, refusing to acknowledge this ghastly height.

"You have come for me, to save me," she said blankly, staring ahead into the far distance. A weak smile dangled on her lips and threatened to plunge a long way down into the cement.

It was such a nice change from the usual cries and moans I received. I paused for a moment, a still heartbeat of time, and scrupulously coined my response. "Is this really necessary?" I hesitantly countered.

She shrugged indifferently and flashed a feeble smirk in my direction. "I have waited for you for a long time."

Then she stepped forward, and she flew, such a beautiful bird, twisting and turning about, eyes shut against the surging, deafening winds of Chicago, an impossibly long fall, and I swooped forth to seize her in my arms so that she would be safe and sound forever.

We are ambling along quite pleasantly over this rough terrain, with wind and cold lashing upon us. I glance at my companion, wondering how she takes this extreme weather, and I am startled to see her smile. A burst of gurgling, unrestrained laughter bounds leaps out of her white lips. The wonderful music worms into my ears and I think about the delightful baby she once was, fists jabbing the air as mirthful parents bent over her crib. I smile grimly at this recollection and clutch her marble hand.

I am content, here with this lovely girl who has thoroughly welcomed me into her life and beyond.

I should not think I am lonely anymore.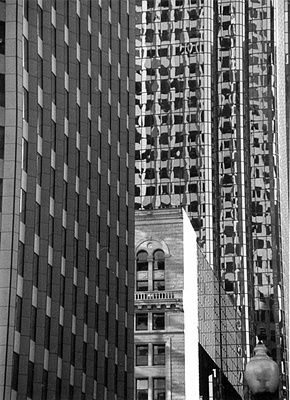 © Natalie D.,Marblehead, MA