Betrayal by Fire
February 19, 2013
She was well-known, beloved, and content among her people. She was a heroine to all and was willing to even sacrifice herself for them. She couldn't have been happier, what with being engaged to her childhood sweetheart. Surely, he understood that she was a witch. He and everyone else accepted her for the way she was. Everyone except her enemy.
He was a warlock who had an obsessive hatred towards the heroine and her town. Many times did he try to wreak havoc on it and destroy the witch, but always failed. One day, he plotted his most malevolent vengeance that would ultimately decide the fate of everyone. First, he possessed the fiancé and through him, convinced everyone that the heroine was evil and was ready to abandon them at any time. The people then formed a rebellion and made a plan to seize her that night. First, they harvested her weakness, pine tar, and lit it on fire. Then, they lured the heroine into the town square.
She was shocked when the townspeople surrounded her with pitchforks, knives, and torches covered with pine tar. She was hurt at the same time at the uprising of her people. The people, who she had protected and cared for. They, who had learned to trust her and accepted her into their society. It was they she had sworn to protect. Now, they turned against her.
She tried to fight them off without injuring them, but got stabbed by a knife covered in pine tar. She immediately lost her powers and saw no choice but to flee as far as she could. But they caught up to her and tied her up. Even in her weakness, she saw the silhouette of her fiancé walking towards her. Under the warlock's spell, he told her that he loved her no more and will make her suffer. She was traumatized at his words and soon surrendered herself. Her fiancé held a torch and a fire-heated poker and stabbed her with the latter item; with the torch, he burned her.
The next morning, the warlock was satisfied, so he lifted the spell from the fiancé. Later that same morn, the fiancé found his bride-to-be lying on the ground, injured and barely alive. He took her to her regular medicine man, who lived not far off from the village, but there was very little the latter could do. In her final moments, the heroine told her fiancé about what happened to her. He shook his head in disbelief, but her final words were, "I loved you, but why did you do this to me? Why?" Blaming himself for what happened to her, the now-former fiancé buried her deep within the woods.
Then, without another word, he ran farther into the woods and was never seen again.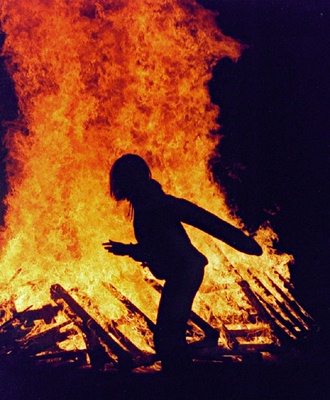 © Hali S., Robinson, IL