Harvest
July 12, 2011
The cold January breeze blew threw my short brown hair. As I trudged through the snow that laired the forest floor. I could here them catching up to me moving threw the falling snow like a white shadow. Tainting the air with their retched poison, I couldn't see, I was cold, hungry… afraid. My whole world was spinning; I had to keep it safe. Then I saw golden light's up in the trees, dancing, twirling, flinging snow up into the sky.

I slowed my pace; starring into the lights as though they would give me all I wanted. They spiraled down to me enveloping me in their golden rays. Warming me, all thoughts of those who were following me, were gone. I would be safe, if only I could stay with them sit here for hours as they threw up snow and it rained down on me. Then they were gone, the cold crept back over me the despair and hunger returned and now I was sitting in the center of a ring of white wolves. At their head was a man in a black cloak that looked more like a gas than a solid.

I glanced down at the brown clothed book I was holding; suddenly realizing that there was no hope of escape the white wolves was taking its toll. "Give me the book, Lucrio," the man hissed as he began to slither toward me. He spoke again "Give me the book that thy mind may be at rest, that thow shalt hunger no more." I felt my hand drifting toward him, I was loosing consciousness I couldn't let him get it he would murder thousands. He placed one hand I summoned all of my remaining energy into my hand, and unleashed it. There was a burst of bright light, the book sunk into the ground and dozens of miles below them it lay undisturbed. He had succeeded and now he new he would die. The last thing he saw was the man is the black cloak's eyes they were slighted like a demons and they were in rage.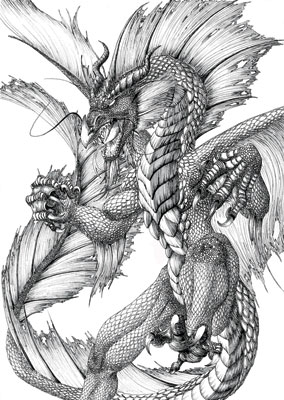 © Lauren R., Belmont, MI