An Eye for an Eye
October 18, 2010
My God, what a bad time. Just when I'm about to shoot his heart out, my eye starts to itch. I try my best to ignore it, grip the controller as tight as I can so my hands can't reach my face.
It really hurts, though. I blink hard and try to focus on the game. I'm on a roll. Not to brag or anything, but I'm really good at videogames. I've got amazing thumb-eye coordination.
But anyway. I'm getting twitchy as hell as I try to keep myself from scratching my eye. I groan as my hand slips on the controller and I lose a life. When's the last time that happened?
I hit pause and scratch harshly at my eye. Gooey tears start gushing out and running down my cheeks. Ouch. Okay, that hurts. That really hurts! I stand up and hurry out of the dark living room. What time is it anyway? I glance at the clock in the hall; eleven fifty-three.
The light flickers on with a slight hiss as I press the switch. I almost shout when I look in the mirror. My eyes are dark red and pearly tears still ooze out. One eye is sort of glued shut. Yuck. What's wrong with them? I rub gently at them with my wrists.
Ow! Okay, bad idea. I peer at myself in the mirror. Is there an eyelash in there? Not that I can see. I sigh and lean against the cold wall, still looking at myself. Guess there's not much I can do about this.
I return to the living room and try to get back into the game. But my eyes burn with every flash of the screen and I lose more lives in one hour than I've ever lost in a month before. No use. I turn off the TV and curl up on the couch, still prodding at my eyes.
I wake to the twittering of birds. I stretch, yawn widely, and sit up. Hey—my eyes don't hurt anymore! Good. I was worried a little last night. With a smile, I open them, expecting to see the rosy morning light poking its long, pale finger into the room.
Instead, I only see darkness.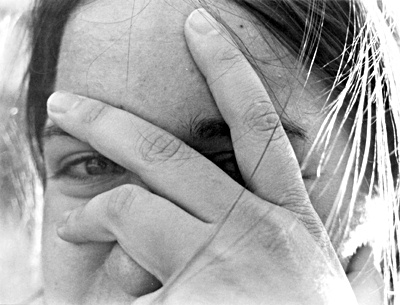 © Claire E., Bethesda, MD