Elegance Is The Norm
May 4, 2010
Dewdrops glide down the panes of my fogged window, as the early birds croon murmurs of happy songs. I smile as the sunshine moves across my face, but already I yearn for the moonlight to dance with the shadows in the corners of my bedroom. It is morning, and I am barefoot.
I stare at the white wall in front of me; a blank, yet loud wall. My room is half empty, and my belongings amount to few. I harbor no interest in material items, yet am overly abundant with dreams, and wishes. I am the person who lives always with a smile. I am the girl with the heart so said to be made of gold. I am graceful, I am charming, I am soft spoken, and endearing. I am Elisabeth Eagleson, fair haired, and tamed by sun.
The trees beam bright with laughter as I swiftly move through the forest ever green. I have a place in mind, and my battered beet know the route. I wear a dress of lace that fails to cover my scraped knees. And in the hidden pocket on the side, I store my gifts for the girl. The silly brown haired girl, who comes and listens to my cries, she waits for inspiration, and I make certain to supply her muse.
In the other pocket I carry a locket, with a secret watch inside. When I pass the big oak tree, my eyes flick down at the diamond inscribed clock, and I know that it is time. 11:57, she'll be there, I just know it.
I run now to the clearing, fast as wind, and slow as time. The thick prairie grass rubs against my legs, and I know that I am close. My heart beats with anticipation, as this trip may be my last for an elongated time. This brown haired girl, she sits and she waits, but in no time she will be gone. Only three days out of the entire year she comes. She sits next to my tree, she writes, and she cries, and she sings. I too love this prairie, and so I meet her for those three days. She's never seen me, not physically, but she sees me in her dreams. She has a strong heart, but weak tear ducts, and slow legs. Her dreams she thinks are out of reach, but in her grasp, just almost. I guide her soul, and let her run free. I think of her as the other half of me, the side that never took a chance. She's the side that could never love, the side who was loud, and spectacular. I think she is my sister, my sister connected through dreams.
I push a golden lock behind my shoulders, and I grin. This is the place. This is my favorite place--Our favorite place. With much intention in my footsteps, I skip blissfully to the cluster of giant trees. I sit on the stone, it is cold. I haven't been here in a while. "Hello, Mary," I say, and I pat the wintry surface. Out of my pocket I remove the presents, and set them all on Mary's marble headstone. After constructing my present, I crave a peek at my secret sister. There she sits, at the foot of my tree, her eyes wet, and mouth too dry. Together we sit for a moment or two, and my spirit then fades with the wind.
The brown haired girl no longer cries, and the sunlight withers her salty tears. She sees her inspiration, my grand supply of muse.
A cigarette, and three pennies at 11:57, they lie distinctively constructed and fresh. The simple brown haired girl, whose eyes now cry with joy, she lays her hands down to the ground, and thanks me in her mind. I whisper back, and I think she hears, because her head rises up to the sky. Before she leaves, she kneels at my grave, and kisses the headstone with gratification.
Now I'll wait another year, until brown haired girl has come back to dance. Three hundred, and sixty five days at 11:57, brown haired girl will sit and cry, brown haired girl will be inspired. Because this brown haired girl is lovely, and elegance is always her norm.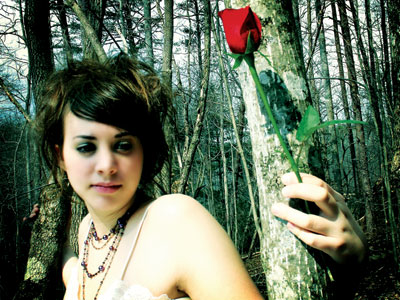 © Michelle B., Blairsville, GA