Loved Even In Death
January 22, 2010
Miles down the old country road lay a graveyard of death. Everywhere you walked, you would find yourself standing on someone's death bed. The caretaker wasn't really that much on care-taking but the mood matched the setting perfectly.
The ground was always black with nothing but dead plants. Weeping willow trees that had lived once but no more rooted to the grounds. Their trunks were cloaked with shadows from the land of the dead, causing them to look black with oozing blood as if they wept themselves for the lost, downfall of mankind who had made their beds here in the end.
It was truly a sad, gloomy and heartbreaking place to be. Most of the living wouldn't dare come forth into the gates, where stone gargoyles stood with wings spread out with eyes seeming so real and frightening, it would leave you shivering with revulsion. The gates themselves stood ten feet tall in the air as the very land reeked with death. Spiders had taken upon themselves as their own duties to redecorate the fence with a welcoming feeling, at least for the dead themselves. Sticky webs hung and looped around each iron bar, folding and lapping until it looked like a horror filled wonderland beyond them.
I had never really thought much of the place until my own flesh and blood sister died the following week. We had been best friends besides blood-sisters ever since my parents died ten years ago. I was truly nothing without my sister. It was as if I was the rain but without the sky. A body but without the head. Everything had became muddled and depressing.
Days past and I couldn't scratch the feeling that I had somehow failed my beloved sister somehow. She had been the oldest but we had made a promise to one another. Take care of each other no matter what. Of course, if something had happened to either one of us, under no circumstances were we allowed to place one black rose over the grave we were buried under.
Our mother had told us the story a long time ago when we were old little toddlers but with each passing year, the story became real to each of us. Laughing was replaced by fascination, and fascination was replaced with fear.
To place a black rose over the grave of a loved one meant of the dead to come back and stalk the land of the living, filling their lives with misery and horror just as their lives were a living hell. It wasn't no picnic for them, their bodies would forever more keep rotten and decaying with every passing day that went on until there was nothing left of them except the skeleton.
I was not strong as my sister had been, I couldn't take the loneliness any longer. I had to see my sister again, to talk to her, to hug her once more without the fear of waking up again in the world, knowing of the days that were sunning and enchanted with white magic without her. Pure, good and true.
A shiver of presences slithered over my own body. I knew as I took each footstep closer to my sisters grave, the dead were in fact watching me. Maybe not with their eyes but with their souls that remained restless. Black crows flew over head, flying until they landed into the black weeping willows, their eyes watching my ever move. I had the feeling of them knowing of the black rose that I squeezed in the palm of my hand. Pain sliced through as I ignored it. The wet substance of my blood dripping over and through my hand until it found escape, falling and soaking into the contaminated ground.
The tears mingled with blood as they ran down the side of my pale, ghostly face. I had cried so much for a week, it wasn't hard for me to start crying blood from my eyes. It didn't scare me to cry blood nor did it scare me of what awaited me after I placed the rose on top of my sisters headstone.
With a shaky hand, I hovered my hand with the rose over her headstone. Feeling shadows of evil swarm around me, whispering in my ear to forget about this headstone and drop it on theirs. I resisted and squeezed my eyes shut. Extended my fingers out, feeling the rose leave my hand as gravity took over. A slight, soft thud sounded and the whispering stopped. Silences.
I counted my heart beats slowly as the blood thrashed behind my ears. A headache coming along but I ignored it to the best of my knowledge. This was it. The time where I would reunite with my sister. Dead or alive, death couldn't keep two blood sisters away from one another for long.
I open my eyes, my breath catching in my throat as I watch my sister. She looked exactly the same as I had remembered her. The black, silky hair to her waist. Creamy, milky skin so perfect it was breath taking for most while others loathed for such beauty of their own. Pale, washed out blue eyes locked onto mine as cold wind caught her white dress, making it flap and dance.
I was overjoyed and threw myself into my sisters arms. Hugging her while begging to never leave me again. She remained quiet through the whole joyful moment. Her arms hung on opposite sides from her as she only stood there, like some statue that had never experienced the joy of moving fluently.
"What is wrong, sister?" I ask as I back away.
"You broke the one promise we ever took for one another." She said, her voice echoing in my empty head like a eerie whisper of a demonic demon.
I swallow back the lump that had formed in my throat. "I had too. I missed you." Red tears streamed heavily down my cheeks, over flowing full bore.
She shook her head with stretched, opening arms. She hugged me back as I turned her white dress into a bloody mess. The tears disappeared as I took in her presence. She was here with me. That is all that mattered. I smile and begin to retreat a foot away but she held me fast. I struggled for only an instant before the real pain began. In my rear back, in between the shoulder blades a powerful throbbing began. I screamed out in horror. Strings of torture ripped and wrinkled in between my shoulder blades until they dug into my flesh from behind. I tried to shove my sister away but I could not. I was weak and she was strong.
A dragging feeling as if my soul was being forced out by its own will broke inside of me. I could hear tiny cracks of bones breaking and twisting as the pain ripped inside of me. My dear sweet sister had ripped out my heart, leaving me to fall backwards onto the cold and clammy ground of death.
"Why?" I gasp, blood trickling down the sides of my mouth. The gurgling never quieting as I lay in my own puddle of black blood.
She brushed my own black hair aside. Caressing my bloody cheek as her other hand held my slowing, beating heart in her hand. "I did this because I love you, sweet sister. We do not understand sometimes when we do things to hurt one another but in the end, I still love you. This is why I have done this."
I pant for air but none came to be. My veins were turning cold as my skin turned transparent. I spit more blood up and smile. "I forgive you, sister. I love you and we'll soon see each other in death." I said softly just before the dark shadows of obscurity carried me away into a pitch black world of no turning back.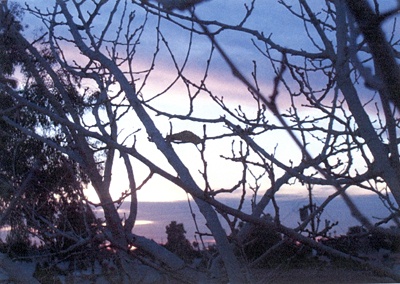 © Delia R., Phoenix, AZ