The taste of death
June 28, 2019
After all these years I still don't sleep on some days because I'm afraid to get nightmares of the last days spent with Maa. Her death doesn't haunt me, but the things that came along with it do.
1. HELPLESSNESS
The days when she used to drown in the ocean of tears brought by the rain of suffering and pain. And I was the dead sea of helplessness, watching all this in dead silence. The state you're in when you're so hollow from inside that you just want to run and escape to a place called nothingness, but then you realize that you are crippled because your legs are chained with responsibilities.
2. FALSE BELIEFS
The day when she cried resting her head in my lap screaming that she didn't want to die. She was afraid to close her eyes as she feared not to be able to open them again. All I could say to her at that time was, "Everything will be fine, Maa.", consoling and calming not her, but my ownself.
3. BROKEN PROMISES
When she got to know that she didn't have much time, she silently held my hand and made me promise that I'll never cry after she'll be gone. A dead sea of tears is still in my gut. I'm keeping my promise. She forgot hers. She left me.
4. LONGING
Some days after she died, I realized that the thing which scares us is not death, but the longing for life before and after it. Before for her, for living. After for me, for dying. Before for decreasing the sufferings, after for the increasing yearning for her touches, her hands stroking my forehead, her warm hugs, her eyes that stored all the stars of this universe, which melted when she closed them, and formed the dead sea in my gut, her sight which is now just a souvenir in my heart.
5. AN ANOTHER DEATH
The dawn when two lives ended. When she tightly held my hand. Everything felt cold- the air, the silence, her hand and my heart. Both us knew what was coming. She kissed on my forehead and folded her arms around me. This time she silently closed her eyes, not to open them ever again. I didn't cry. I couldn't. I was keeping my promise.
That day I realized that death is not of the person who dies, but of the person who stays, who loves, who lives.
PS- This is totally fictional.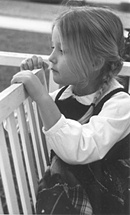 © Amy B., Alabaster, AL