Sea By Sea For 3 Years
February 19, 2009
The girl watched him say goodbye to every single person. She bit her lip whenever he got closer, holding back tears. In her mind she was chanting, "Don't let him see you cry, Don't let him see you cry," She looked down, then up at him. He was hugging everyone and saying his last words for a long time. Finally he got to her and she tried to smile a sweet grin. "Well baby, this is it." He tried to smile back. "Im going to miss you baby." He just looked into her eyes while she was trying not to cry. All of a sudden she threw her arms over him in a rough swosh.
All the memories were coming back. They're first meeting and their second. All their laughs and moments. All the times she's cried for or over him. Every "I love you," and every kiss. The first time he looked her in the eyes and said his true feelings. Their first embrace, and the first night they spent the night together. The mischeif and the strife. It all went through her head and the tears silently streamed.
"Please baby don't cry." He hugged her tight. She loosened her grip around him and sadly. "I tried really hard." They laughed. "I'm proud of you for doing this." He put his hands in her hair. "Don't say that. You're going to make me cry." She smiled at this. Making her boyfriend cry was quite a thing to do. "No matter where you go, no matter how long, I'll be here waiting for you. I love you." He kissed her so hard and long she almost fainted from all the emotion. "I love you Darling. I'll write you everyday. Wait for me."
"Always." And he gave her one last kiss on the forehead and she cried more silent warm tears.
Watching him leave and not being able to do a thing about it made her heart sink. But right before he jumped on that ship, to be the sailor he was, he looked back and smiled at her, saying I love you in the air. And a tear was on his cheek. She cried, while everyone left. She missed him, but he had to do it. She had to be strong for him.
For 4 whole years he was gone to sea. He wrote her everyday, and called her once every 2 months. His voice gave her soothing dreams and sparks in her heart. 4 long years she went to that deck and drew the beautiful ocean and the sunsets. She cried once in a while. But 4 long years later, she waited on that deck with his friends and family, watching his ship emerge on the horizon. She looked for him in the crowd of other men greeting their loved ones. And he finally called to her. She ran to him and shared a warm, passionate kiss. "You waited." He whispered into her ear. "Yeah, and you were worth everyday."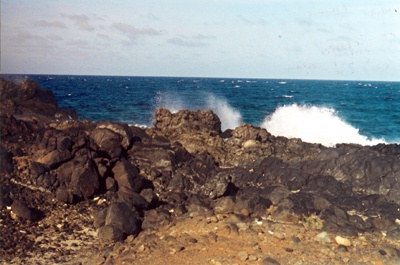 © Matt A., Smithfield, RI