Free Samples
September 24, 2016
    Behind a closed apartment door, there was a soft weeping. Four years ago, the sobbing was much stronger, but each and every day for the past few years, slowly but surely, it grew softer and softer. The girl whose cheeks these tears soaked as if she was staring at the sky as heavy raindrops fell upon them must have felt she would soon run out of tears if she did not try to lessen them, as it was surely not the pain that was becoming any less.
    No, the pain was still there - the pain from the heartbreak that had nearly destroyed her at the very end of her senior year in high school. The pain that had sent her through countless therapy sessions with nearly every therapist in town. But after each one, she left still feeling hopeless. The pain had completely numbed any and all feelings of love.
    "Love." That word made her laugh. Though it was not the joyful kind, more of the nervous kind of laughter one might give after hearing terrible news, hoping that it was just a joke. Because that's what love was. A joke. A lie that people would make up so to not face the reality of a merciless, cold, selfish world.
    Indeed it had been four years since her last relationship had ended. Of course she knew it was silly to continue to dwell on that. But that did not change her emotions. Nothing ever would, and even if it could, she would not let it. Because before he had come along, she was in this exact state. He had changed it though, just like the one before that and the one before that. But then, just as the others had, he changed it back. Each of them had done it in a different way, from lying to cheating to emotional abuse, to just abandoning her for absolutely no reason at all. But they were still all the same - the same processes in the same endless unbreakable cycle. Well, unbreakable unless she simply didn't let one of the steps happen, and so she didn't. No more falling in love, no more confiding in others, no more trying to just believe in a happily ever after, no more heartbreak, and no more pain. Really the only two she wouldn't miss were the last two, but in her mind, they outweighed the rest.
    Finally, today's weeping session came to an end. No more tears were left. They were all dried up on her cheeks, now the color of shiny red tomatoes. For a couple hours, she lied in bed, curled up under the sheets, blocking out the rest of the world, and attempting to block out her emotions. And then, she got up and prepared herself for a drive. She did not have a destination in mind, but she was not stupid, and realized that she could not just barricade herself indoors, away from the rest of the world - at least not forever.
    For a while, she just drove around town, watching the busy streets and shops of a Saturday afternoon. When she realized that this was using up the expensive gas in her car very quickly, she stopped in the parking lot of a mall. Brushing her hands through her hair, no longer caring too much about her appearance, she grabbed her purse and went into the mall, where she browsed the shops for an hour or so. She was almost ready to leave but then decided to stop at one of her favorite stores, Teavana. Her tea supply at home was beginning to run low, and that was really the only thing that soothed her mind anymore.
    Before walking through the entrance, she was greeted with a warm smile by the tall brown-haired man who was handing out samples.
    "Would you like to try a free sample?"
    "Sure," she said, returning the smile.
    He put a clear, small plastic cup under the dispenser and poured her a small amount of hot, copper-colored tea before handing it to her. She took it and drank it all in a single sip, the warmth and touch of spice from the tea somehow clearing her mind of all negativity. Something about this man seemed to help, too.
    "What do you think?" he said.
    "That might just be the best tea I've ever had," she replied.
    "It's one of my personal favorites too. Would you like another taste?"
    "Isn't that against the rules, for one person to take more than one sample?"
    He laughed. "Don't worry. I won't tell." She joined him. It felt strange to hear her own laughter. It was an unfamiliar sound.
    She handed back the cup and allowed him to pour her a second sample. She gulped it down before thanking him and flashing him another smile to say goodbye. Then she disappeared into the rest of the crowd browsing the tea shop.
    A while later, she walked back out, struggling to hold the heavy, large container of tea she had just bought, along with smaller containers of other types of tea. "I guess you really did love that tea." A familiar voice stopped her before she was about to walk off. She turned around and saw the same man that had given her the samples, and gave a shy smile. "Would you like some help carrying that?" he offered. "Oh, um, thank you," she stumbled, handing over the largest container, "but doesn't someone need to stay and hand out samples?" He just shrugged, leaving her question unanswered, and together they walked through the crowded parking lot.
    "So, do you just drink tea? How do you feel about coffee?" he asked.
    "I like it."
    "Really? What a coincidence. So do I. Perhaps we should get some together sometime."
    Suddenly, she felt as if there was a hummingbird inside her chest, trying to escape. The last date she had been on was two years ago, and she had bursted out in tears in the middle of it when she was reminded of her last boyfriend. If she went on another one, it would undoubtedly end the same way. "No thank you," she said in a near whisper.
    "I insist." Why did he have to be so persistent? "There's a cafe right down the street. I think you would like it."
    She sighed, shaking her head. They reached her car. "Thank you," she said before taking the containers from him and placing them in the passenger's seat. "Goodbye." He waved to her as she drove off, headed back to her lonely apartment.
    Over the next few weeks, she returned to the mall on several occasions, each time around the same time and day, always stopping by Teavana whether she needed tea or not, secretly in hopes that she would come across the man who had given her the samples. And each time, she did. When he was not in or near Teavana, she would come across him in the food court. They would constantly talk for as long as time allowed about everything from television shows to random stories to deeper topics. She found out they had a lot in common, including the fact that they both lived alone and did not go out much usually.
    Each time, he had attempted to convince her into going on a date with him. He really didn't want to annoy her, but he also didn't want to let her get away. He once asked her why she didn't want to go out, and she explained to him that it was due to her fear of heartbreak and entrusting others. He tried to explain to her that she shouldn't let her fear get in the way of a chance of happiness, and that every guy isn't the same. Eventually someone will come along that will treat her right like she deserves, and he just wanted to be that person. She listened closely and really didn't have anything to say that would oppose his wise words, but still, she said no.
    Whenever he asked her, she wanted to say yes - she really did - but each time she was almost able to force the word out, memories of her past dates and heartbreaks filled her mind, sometimes bringing tears. Whenever he complimented her, which was quite often, all she could think was, "He's just saying that to make fun of me" or "He's just trying to make me happy" even though he truly did believe in what he spoke.
    Whatever he said to her always made her happy. Just hearing his voice would bring euphoria. In fact, any day that she got to see him, she would not cry for the next few days. And then, when she did return to being engulfed by nostalgia, thinking of him would help distract her. Nothing had ever made her feel the way he did - not even her past boyfriends.
    Today, she went to the mall again, anxious to see him again, as she planned on finally forcing herself to say yes to his continuously-asked question. She still did not fully trust him with her heart yet, but she would agree to give him a chance.
    She surveyed the food court, where he usually was, but today, that was not the case. She looked at her phone to check the time and realized it was a few minutes later than their usual meeting time. Perhaps he was back at work. She walked down to Teavana and saw an unfamiliar woman handing out samples at the front. She first looked inside the shop first to make sure he was not there, as she would do anything to avoid conversing with strangers. Once she concluded he was not inside, she tentatively asked the woman giving out samples if she knew where he could be found. She gave her a shrug and then turned around to ask a family if they enjoyed their tea samples. Frustrated but trying hard not to think too much of it, she left, planning to return tomorrow.
    The next day, she checked both places for him, but he was nowhere to be found. If only she'd gotten his number… She stayed at the mall almost all day, continuously looking for him, and finally decided to ask the cashiers at Teavana if they knew when his hours were. When they didn't know, she demanded to see the manager, which was unlike her. She had to wait for an hour until the manager finally arrived.
    "He hasn't been here in over a week. In fact, I should probably call him to let him know he's fired," the manager said. He walked off and returned a few minutes later. "Well, I guess I don't have to fire him." He paused. "He's passed. He was in a car accident."
    She froze from shock. Was this a joke? He broke the news so emotionlessly; it couldn't be true. Finally, she let out a laugh - the same kind that the word "love" used to do to her. But it was true. The man who'd given her free samples and somehow managed to make her happy the past few weeks for the first time in years, and had the potential to completely change her life and allow her to break the cycle - he was gone.
    He had been stopped at a traffic light and did not notice that it had changed to green. He was zoned out, thinking of the beautiful girl, inside and out, he had met at the mall weeks ago. The large truck behind him, expecting him to move, drove forward, smashing into his car. An ambulance had come and driven him to the hospital, but it was helpless. After two days, he died in the hospital, all alone in his room, from brain damage.
    She went home and got into bed even though it was only seven o' clock. She would not return to the mall for months. For years, she went back to the daily routine she had developed before she had met him. Except now, when she wept, it did not grow weaker by the day, and instead of tears over pain and heartbreak, these tears were brought upon by remorse and longing to feel his presence again. And now, she did not have her favorite tea to soothe her, as every time she tasted it, she would just be reminded of the man who had first given her the free samples.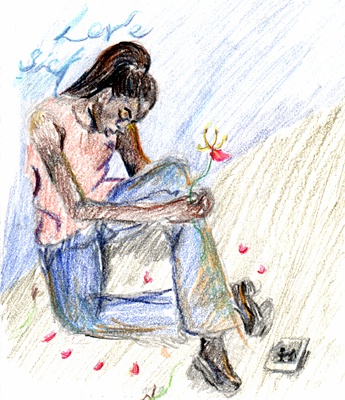 © Sherell B., Philadelphia, PA