Penny
June 8, 2016
"Fine. Heads, we get married; tails, we break up."
Justin stared in complete and utter disbelief at Margot, who just stood there nonchalantly as if she hadn't put their entire relationship on the fate of a penny she picked up off of the floor.
"D-do you hear yourself when you speak, Margot?! Heads, we get married, tails, we break up?! How can you minimize our entire four year relationship and put it on the back of that coin?"
Margot sighed angrily, and started pacing, running her hands through her long, black hair. Her steps were short and calculated. "You think I wanted to do this Justin? I love you for crying out loud, b-b-but I can't deal with this anymore!" She yelled the last line, her face slowing turning a furious shade of red.
Justin swallowed hard. "Deal with this relationship?"
"Yes, Justin deal with this relationship. You know, we used to agree on everything, and now we can't even find common ground on anything, not even on the milk we buy! You're never home and I never see you, and I'm sick and tired of the petty arguments that always tend to show up when we're in a room together. It never used to be like this, and I don't know what happened." Margot's voice softened and she stopped pacing. "And I'm not sure if I can handle it anymore. I'd  rather have stupid, petty arguments with my husband to be than with a boyfriend as twisted as that sounds. So, like I said, heads we get married and tails we break up."
But, Justin shook his head, green eyes brimming with wetness, though he'd never admit it. "No, no, no, Margot, no. I-I'm not letting this happen! What happens if the penny lands on tails hm? We break up, and then what? You would then have to move out of this apartment and find someone to else live with. Everything we've ever shared with one another would be gone. Four long years of you becoming my best friend and one and only, gone. You mean so much to me, and I will not lose you over a stupid penny."
Margot clenched her jaw and sat down on the old couch that her and Justin had picked out two years prior. They had found it one day when they went out thrifting and Justin had wanted it and well, Margot had always had a problem with saying no to Justin.
"What do you want to do then?"
Justin plopped down next to her and let out a long sigh. He stayed quiet for a few seconds, before turning so his body was facing his girlfriend.
"If it's what you really want, then," he paused, and grabbed the penny that was resting in her hand, "let's do it."
They both stood up, and Justin took a deep breath, before flipping the coin.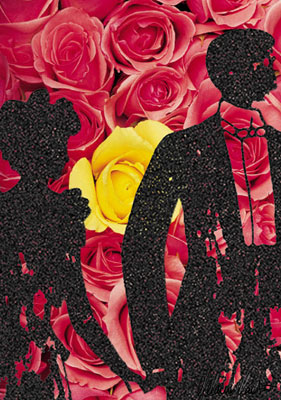 © Melanie M., Hendersonville, TN