Love at First Sight
MAG
April 15, 2016
As a rule of thumb, I don't believe in love at first sight. It'd be such a pain, don't you think? To have that moment of horrifying clarity when you see her, alone in a downpour, brown hair and blue eyes being the only colors that mattered right then and there. Watch her walk along the dark sidewalk, hearing the constant crashing of thousands of raindrops colliding with the earth, and still managing to hear the sound of her boots splash prettily in shimmering puddles over the droning of everything else. Her umbrella was up and her hood was down, and around her the rain parted in the presence of an angel that graced this earth, creating a halo of crystal dust around her. There were stars in her hair and the ocean in her eyes, and I could see teardrops or raindrops in her lashes as she passed me by. Behind her trailed the scent of flowers and of sweetness and of loveliness. She walked right in front of me. Seeing the slight frizz in her pretty hair from the rain, feeling the water from the splash of her boots on my feet, having her so close I could count the crystals in her every exhale, so close I could tap her shoulder and
smile and talk and win her heart?
If you could imagine that, then you could imagine the feeling as she walked past and away and away and away. Wanting to call out, wanting to say something, to make her stay for maybe a moment longer but feeling the words swell in your throat, choking and silent as she grew distant and distant and distant and gone. If you can imagine that, which I doubt you can, then I feel sorry for you. There must have been an emptiness then, right? One that kind of opened up inside your chest and hollowed you out for all you were worth. The feeling of muted shock as you finally felt the chill of the rain, staring at the space-now-void where she once was but was no longer. The landscape comes back into focus: gloomy houses soaked in a dreary rain, the bleak splashing of raindrops into puddles and the dark sidewalk that was stark and barren as it was and always would be from there on out. Every light a bit dimmer, every flash of lightening a little less brilliant, and the sound of thunder too loud to hear the splash of boots in sidewalk puddles. And after the scent of flowers faded, it would feel like the world had become two-dimensional, and every exciting thought and passion would be dampened by a blanket of regret, downpouring onto your hair and soaking you cold to your bones and wishing and longing you had spoken, run after her, caught her eye for the merest of seconds as she had caught yours but you didn't, and the world, indifferent, goes on.
But the feeling of bright opportunity brushing against your fingertips, soft and supple under your hand, dancing away with a fading smile and quiet laugh as you watch, mesmerized, frozen, scared, as she gets further away, walking in the rain, umbrella in hand with blue eyes and brown hair and the rain pouring everywhere but where she stepped, watch her walk away, into the dark, and never turning back. It's a scar of a feeling, and it will linger inside of you in the back burner of your mind and at the fringe of every thought and feeling, every wish and want.
It's a good thing, then, that I don't believe in love at first sight.
It seems like such a terrible, terrible pain.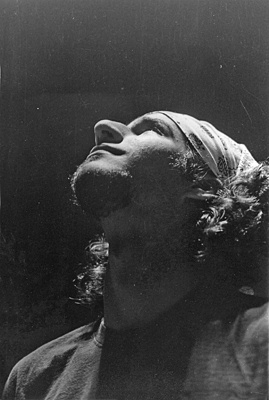 © Luke Z., Westport, MA