Your Hoodie
MAG
December 17, 2014
You left your hoodie here yesterday, early in the evening. The bell above the door rang, announcing your arrival. You strode casually up to the counter, ordered your chai latte, and sat at the table closest to me, next to the window. I handed your order to Lenny and proceeded to stare at you while resting my head on my hands. Occasionally you would look at me, my eyes darting reflexively down at the counter or out the window, hoping you didn't catch my gaze and mistake it for something sociopathic. When I knew the coast was clear, I would return to gazing at your gorgeous face.
It was clear and warm outside, our air conditioning running on low. You removed your gray hoodie, turned, and slipped it onto the chair neatly. You crossed your legs, rested your head on your hand, and continued to look intensely at the window I had cleaned earlier. I felt like your glare seeped through my hack job window wiping and into my soul. But that was soon disproved as you turned to look at a car passing outside. I jumped as a cup was set in front of me. I bolted into action without thinking, straightening my hair and fixing my apron as I picked up the cup and brought it to your table. Thoughts of the drink spilling as I slipped across the floor blazed through my mind. But everything went fine. I rested the cup quietly on the table, then started to leave.
"Miss?"
I turned hesitantly. Was there something wrong? Is it me? Was I too quiet? You saw me staring at you. I was staring at you. You're so pretty though. I glanced up half-heartedly, noting how much more model-like you look up close, bathed in the golden afternoon sun. That is exactly what came to mind, because you were a poem-looking kind of guy.
"Yes?" My voice came out quiet. Too quiet.
"Um, thank you, is all." You offered a smile. I returned it, shamefully trudging back to the counter. Heat rose to my face. I'm such an idiot!
I returned to watching you sip your chai latte. After a while you pulled out a book and began reading. It was, for me, the most awkward and visually productive 18 minutes of my life. I soon became worried. How long were you going to be here? What if I did something silly and you stared at me thinking, Oh, stupid, sociopathic coffee shop girl, learn how to clean a window, would you? I chewed my lip, a panicked habit I had developed over the last minute or so. Then you stood, closing your book. You left a $5 tip on the table, sauntered to the counter, paid, and left. My heart still recuperating, I watched the bell on the door fall silent. I looked back to where you had sat. You left your hoodie. What was I to do with that? Should I grab it and run out to give it to you? Instead I stared at it, hoping it would get up and walk out on its own. It never did.
The next morning, it still sat there. It looked lonely as I opened the door, lifted it, and peered at it. I began feeling the pockets, making sure a phone wasn't left behind as well. I felt a small item, ignoring it as it was none of my business. Glancing around, I folded the sweatshirt and set it on the counter. The bell rang, startling me. I turned swiftly, struck with you. You smiled at me. I smiled back.
"You left this here." I motioned to the hoodie.
"Yeah, I didn't realize until this morning. Distracted, I suppose."
My face felt like it was on fire. I hoped it didn't show. "Yeah, well. Here you are!" I picked it up and shoved it out into the air. I bit my lip, trying not to wince. You didn't seem to notice anything odd and took your hoodie gladly.
"Thanks, and uh …" you paused, reaching into the pocket, "we should go for coffee some time." You pulled out a small piece of paper and slid it across the counter. You smiled again, before leaving.
As the day passed, I served coffee to people. Yet that happy little bell above the door never stopped ringing for me.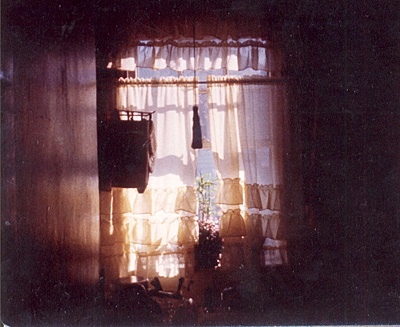 © Michael G., Glocester, RI