My Snowflake and Cigarette Love
October 22, 2014
My favorite mornings are frosted with ice, where dawn snowflakes land on grass as small as needles and are melted away by 10 o'clock warmth. My favorite mornings are when I race my friend into a fast walk chase to your car to decide on who gets to sit passenger. These are the mornings when the world comes to a slow drawl and I take in the smoke coming from your car from a cigarette whose embers light as they come to your lips that are somewhat chapped by the approaching cold weather of the chilling season. When I get closer I see your eyes that are hidden by Ray-ban sunglasses, and your blonde mop of hair is tasseled by the early morning routine that somehow never phases your ability to still look amazing, however late you may get up. I can feel your eyes on me as I saunter up to your car, and I see your mouth crack into a cocky half smile that makes my knees go weak. You take another puff on your cigarette on these mornings, because you want to cover up the flirtatious smile that you threw my way not only moments before.

***
My favorite mornings are when you comes out of your front door smiling, and look at your lawn in search of dew drops that look like snow the way they glitter. My favorite mornings are when I get to take a drag of a cigarette, and enjoy the look of you for that one moment before the world comes and I don't have time to appreciate my view of such an amazing woman.

***
IT MAKES ME WONDER IF YOU REMEMBER.

***
On these mornings I lose shotgun because I am too busy looking for a smile that hints something more than a hello or a good morning. I sit in the left back seat so I can look at you from your side mirrors. I catch glimpses of your glass blue eyes and watch your cheeks uplift in joyful wrinkles as you smile over jokes told by our loud friend who never seems to be distressed. You offer us each an Altoid, and we joke about you not having enough to share sarcastically, because you have three packets with twelve tin cans of Altoids in each of them. You use them to cover up the smell of cigarettes and you smile at me because you always silently remembered the time I told you that my father and I had contests to see who kept their Altoids for the longest amount of time. We have this contest every day.

***
You stick your tongue out at me to show me the white snowflake of a mint, like the snowflakes you search for covering grass on my favorite mornings.

***
ON THESE MORNINGS I WONDER IF YOU REMEMBER
***

On the way home you roll your eyes because she, your girlfriend, has taken my place at shotgun. She rambles in your ear about the lack of enthusiasm you have to see her and you turn up the music as a response. I watch as your muscles tense in your jaw, and you grip the steering wheel until your knuckles turn white, while your eyebrows furrow into frustrated arches in your forehead.

***
She cheated on me again, this time with Jeremy.

***
Your features don't calm until you see me looking at you from the side mirror, and when I smile at you your jaw relaxes into a genuine smile of relief.

I think about if you feel the way I do now when I get fights with my boyfriend. I think about how you might feel this intense grip on your heart, as though it's your duty to fix what's broken inside of me. I want to fix this brokenness that she's caused in you, but I know I can't.

***
I think about if you're feeling the way I do right now when I see the bruises he leaves on your wrists or when I notice more foundation on your purpling cheek. I think about the sudden change you must have seen in him when he "fell" and broke his hand in several places. Around the same time when I stopped showing up to a class I had with him because I would get so angry.
***
I wonder if you remember the night your lips tasted like cheap cigarettes.
***
I wonder if you remember the night your smile brought me a heart ache that made me want to cry in joy.
***
I bet you don't think I remember because by this point my own lips were laced with alcohol and bad intentions.
***
"She doesn't love you," you had said, your head on my shoulder as we watched a fire's body dance among its space in between a circle of rocks. Everyone was off swimming in the lake, but we were left sitting, staring into the bright light that the flames whispered to us with salacious hellos. I held you close so that the somehow chilling summer's air couldn't get into the cocoon we had built from a large blanket and a sleeping bag or two.
***
"I know, Kaliegh. I know," you whispered to me. I could feel your heart crack, but not because she had cheated on you.
"I'm sorry. I'm awfully am," I sobbed, my words not making much sense. "I'm sorry about your heart."
"She didn't break it," you whispered, holding me closer so that I could feel you up against me. "What breaks my heart is seeing the girl I love with someone else."
***
"She isn't with anybody else, she's dating you."
I wanted to laugh and tell you how silly of a girl you are.
***
My reply was simple, and ignorant.
"I wasn't talking about her." Your words were plain, but they held so many questions that when I looked up to see your beautiful blue eyes I saw them waver with an uncertainty of what I was going to say.
When you saw what I wanted to tell you moved your warm hand over my cheek and ear to the land on the back of my neck, fingers raveling through my coarse, sandy hair from our day on the lake's shore. You brought your lips close enough to mine and instead of crashing them into my drunken mouth you approached them slowly.
***
I couldn't scare you away, so I came slowly, like a child offering a treat to a stray animal it wants to love.
***
When you kissed me I tasted cigarettes and Altoids, and felt a hint of a smile poke a side of my mouth upward until I remembered my boyfriend.
"I love you," you admitted.
***
"I'm sorry," you slurred.
I rubbed the back of your head as you cried into my shoulder and I hummed you a lullaby until you fell into a drunken sleep.

***
I bet you don't think I remembered this because even my sobs were slurring, and I told you my heart hurt before my vision turned dark, even when what hurt clearly had to be my head or my alcohol infested stomach.
That was the only thing I think I said correctly that night though, that my heart hurt.
I walk to your car for a ride to school on this frosty morning, watching as cigarette smoke billows from your window and your mouth uproots into a smile after your eyes set on me.
***
On these days I think of what could have been.
***
On these days I wish I replaced an "I'm sorry" with an "I love you too".
***
On these days I think about her arms being mine to kiss and love, and her face never having to be bruised by force of hand, but possibly her own clumsiness. But even then it would be hard for me to let her fall.
***
On these days I crave kisses that taste strongly of mint to hide the smoke, and I pretend that the smile means so much more than just a good morning.
I wish his smile meant a, "I know you love me, and I love you too."
***
And sometimes, on these mornings, it does. It always does.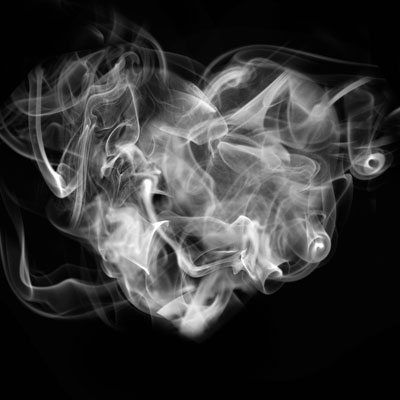 © Olivia E., Alto, MI