The Tumor (A Metaphor)
October 19, 2014
A cardiac CT is a way doctors scan the heart and check for any abnormalities. When i got my cardiac CT, you were there. I didn't even have to hear the words from the doctor's mouth to know that you were there. The way he had to squint and nearly press his nose against the x-ray results while irritatingly rubbing his chin told me that something was wrong. And to top it off I could see you there as well. I could see you from across the room while sitting on a hospital bed.
I have had the addiction for only a couple months before I started to feel your pain. I tried hard to cut the habit. Believe me I really did try, but it was just so easy to give in. And when I finally did, I continued to feed my addiction more and more each day causing the pain to grow and grow inside me. I knew I was doing the wrong thing, but just like any other cliche in my life, I could honestly say that it felt so right to keep going on with it. Eventually I started to feed my addiction so much that the pain was becoming dull, but it still lingered. I overwhelmed myself with the addiction. Everyday, all day was feeding time for it. It got to a point where I felt like I wasn't in control anymore. It was a point where I saw myself in third person and looked back at the short time it took for my addiction to grow so much and could see the change in me. Over the course of 6 months I had seen the change and subconsciously felt it but was not ready to admit what had happened. I wasn't ready to see that you were still there. And I had honestly known for a while that you were, but it was confirmed when I scanned my heart closer to see you in it.
It took me some time away from my addiction to realize just how bad the pain had gotten, and how far you had accidentally planted yourself there. I was scared. I have actually had issues like you before, but they had never grown so fast. There was no turning back. You were there and there wasn't really anything for me to do about it. I held it in for a long time though. I waited to tell anyone that you were there because I was in denial. "How could have you possibly made it there?" "Had i really let my addiction get to that point?" I was still scared, and even more so when I had finally come to accept you being there; but I told someone. They had the typical reaction. They asked all of the normal questions. And when it was all said and done, they stayed positive about it. The next few people I told had nearly the identical reaction to the first, and they continued to have this false positive conclusion to the whole thing. I didn't want that. I wanted someone to be honest with me. I wanted someone to tell me to go through with chemotherapy and the surgery to get you removed, but they said nothing of it. Even the first person told me that maybe it wasn't such a bad thing and I should just leave you there.
I started to wonder about that. Months have past since then, and you are still there. Still growing and straining my abilities, but I don't mind so much.I wonder sometimes what it would be like to keep you there like my friend told me to do. It might not actually be that bad, and when I would finally come to some sort of conclusion of the whole thing, I would know that you were there and were some sort of major part of me. I like that about you. I understand it all a little better now, and whether you end up leaving my heart or staying is purely up to you at this point. I personally don't care too much either way. But in a way, whether in or out of my heart, I would like to keep you with me. It hasn't been bad keeping you around and actually in some ways I do depend on you. I just thought you should know how I feel about you.
Love,
Your Host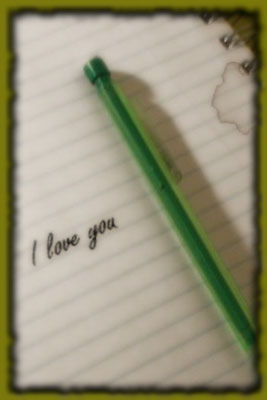 © Rebecca B., Marietta, GA