A New Start
July 1, 2014
How did I get myself into this, I think to myself as my mom's car pulls away from the curb.

I wanted a fresh start, not a goth start.

Yeah, I said it, goth. The only colored clothing allowed in this school is black and any relating to punk goth. What sucks is that this is a boarding school so twenty-four-seven I have to wear black. They don't even permit you to go home for the holidays.

"Are you Amy?" a guy comes up to me and asks.

"Yeah. Who are you?"

'Eli. I was told I had to show you around because your new here."

"I wasn't told that, but go ahead and lead away," I tell him, stuffing my hands in my jacket pockets.

"That's the lobby," he says pointing to a room with a glass door. Then he mutters, "I guess that's what they call it," then is quiet for a few seconds. "By the way I thought you should know that this is the first time i have ever done this, they only have me showing you around because your mom wanted you to make friends and supposedly you and me have the closet personalities in this school," he says giving me a side glance. I guess he's pretty cute, he has black hair cut in a skater boy hair cut, bright blue eyes, and is really pale, which makes his hair look darker and his eyes brighter.

"I'm not surprised, she's done it before."

"Wow, I would hate my dad if he did that to me."

"Yeah, me and my mom don't get along too well, but I have to deal with her the best I can. It's been just me and her for about five years now."

"Look at this, were already friends, were already telling each other secrets," he says cracking a smile. "Hey, stop being so uptight," he tells me when I don't smile, and I finally do.

"This is the main office."

"What time does first hour start?" I ask him, looking over at the room he was pointing at.

He looks at his phone, "Two minutes, come on, we have all of the same classes together and we sit by each other in all of them.a'

"Wow, they really want us to be friends."

"Yep, okay we gotta go, every time your late you get a detention."


By the end of the day I already knew all of my teachers names, what degree they had, and what college they went to. (The teachers here don't know how to shut up.)

"Hey Amy, how was gym?" we have gym the last hour of the day and they split us up by gender so I wasn't able to talk to Eli all hour.

"It was okay, but some girls need to learn to keep their opinions to themselves."

"Who were they?"

"I think their names are Leanna and Violet."

"Oh, those two. Don't worry about them they'll stop in a week or two."

"Your just telling me to do what I already was doing," I say looking over at him and smiling, and to my relief he smiles back.

"Come with me, I want to show you something," he says turning around to walk out the doors where they have trees and tables for us to do our homework or hang out. But after we had passed by five or six empty tables and a ton of trees with no one sitting under them, I knew we were going somewhere else.

"Where are we going?"

"There's a lake in the woods I want to show you."

After he says that we are at the tree line.

"Are we allowed to be in here?" I ask as he starts to look for an opening to get in.

"Yeah, they have a fence a little ways back and cameras every where so they can still keep an eye on us."

"Okay."

"'Kay, come on, I found an opening," he calls to me about twenty feet away from where I am.

Once were walking for about three minutes I start to see the lake.

"Come on," he says and starts to run, and then he gets to a dock and sits on the edge to dangle his feet in the water. Then he motions for me to sit by him.

"This is so pre-" he leans over and kisses me, full lips on lips. "Why did you do that?" I ask, utterly shocked.

"Because of how strong I've seen you be today, it isn't easy being new to a school, and your dad being gone."

I didn't think anyone could be that sweet.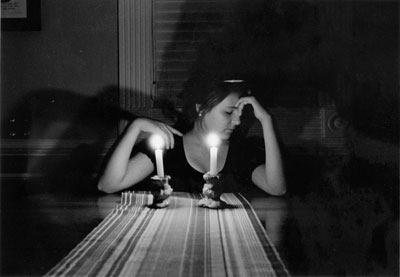 © Eleanor K., Bethesda, MD