If My Love Was Good Enough (pt4)
June 6, 2014
"So Autumn; how did you know I wasn't going to hurt you or anything?" Gabriel asked as he kept his hands on the cup of coffee, but didn't take a sip of it.

"I didn't. I decided this mornin was going to be a good mornin so I got away from life and wanted to go to my tree. I seen you there with the knife. I was just hoping you wasn't goin to kill me. Plus it helps i know a thing or two about fighting. " She winked as she finished pouring the mystery powder into her coffee. It was suppose to be the "best coffee" because of it; Gabriel wasn't sure what it was so he didn't trust a complete stranger.

"And hey; I told you people call me Rose."
"Well that's normal people. Your name is Autumn and it's an beautiful name so I think I'll use that." He grinned in playfulness.

They looked at each other and she pointed to the cup as he sat there. He just turned his head to look around. Her house wasn't huge; but it wasn't small. All the floors was made out of shiny smooth wood. He sat in the chair in the living room; which wasn't nothing but normal. Like her. TV; Chair; couch; stereo system; and than pictures hanging.

"What you think I brought you to my house to poison you? It would have been easier to just do it in the woods; so I don't have to burn your body in my backyard." She threw a dish towel at him.

"Well maybe that's true, or you could sell my body in the black market." He laughed as he took a sip of coffee. His eyes grew wide like a anime character's eyes. He almost choked and spit it out at the same time.
" This is...Where did you learn to make this?" He asked after he forced gulped it down.
"A friend of mine while we I was at her house. It was kinda mistake blend and turned out good. You should know her; her name is..." She didn't even finish as she watched his face turn ghost white.
"What's wrong?"
"It's her."
"Who?"
"I love her."
"Who!?!"
"Your friend."
"Cause of coffee?"
"No."
They just looked at each other for a few silent moments. Even the crickets were silent and waiting to see what happened next.
"Look I didn't know; I just wanted to make sure..." Her voice trailed off as he stood up and started to walk to the door.
"Wait. Your the one she talks about I'm guessing. She loves you too," he stopped and turned around, " She talks about you like you two are newly engaged. I never asked your name or anything, she just talks about you so much. Hell I know a lot about you just by listening to her. Her mom called me last night and told me she came home crying. She stayed up all night watching lovey-dovey movies and eating ice cream."
Rose went and laid down across the couch as her hair fell on her face.
"She once told me about the willow tree. Told me the story you told her under it. About your "Mask"." As she said mask; she air quoted up to the ceiling.
"I remember her saying if you were ever hurt or sad you go there. So I figured I could come and talk to you and..." Again she trailed off as her hair got brushed out of her face.

Gabriel was kneeling next to the couch and looked her in her eyes.
He scanned each and every line and curve of hers as he thought, 'She is just so...perfect.'
"So you wanted to talk to me about what? That I should move on? That she does love me, but she can't be with me? I know that already."
She whispered just loud enough for him to hear as she glazed back at him, "I wanted to talk to you about movin on."

To say that either of these two had a full thought in their head; I would be lying. Maybe a single thought between them.
Gabriel leaned in so their lips were just inches away from each others. Their eyes never left; pulled together like magnets. Her breathing got slightly heavier and her heart beat against her chest like a cannon. Both of their breath met in the middle of them as neither moved. Her lips quivered and she looked into his eyes.
"Maybe we shouldn't." She whispered.
"I know." he leaned forward and moved up a little giving her a small kiss on her forehead. He stood up and turned around walking out the door.

She sat there wondering what just happen and what should happen next.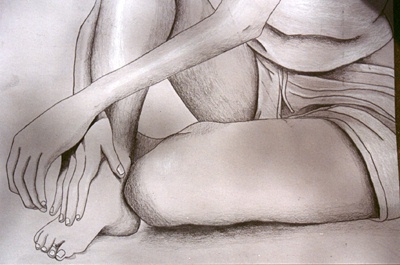 © Omar M., Phildelphia, PA