The Lovers
February 21, 2014
He studied her still form for a moment, loving the way her delicate figure curved in an S shape. Her hair lay bundled in a loose knot about her face. The light dripping off from the moon cast a white glow over her face, her lashes creating deep-cut shadows that lined her jawbone.
She was so beautiful; he felt his heart break. He knew that he could never be with her. Forget it…forget it…forget it…the voices kept whispering in his mind and he tried to ignore them as he turned around to leave.
Suddenly, he felt two arms grasp his waist from behind. He stiffened, until he saw who it was. She was blinking up at him with huge starry eyes, the decision clear in her eyes. Slowly, Harry turned to face her, his arms circling around her lean back. He leaned down towards her and felt Hermione melt into him as they swayed for a moment. Without thinking, without any thought at all, they let their feelings carry them away. Away to a place neither of them had ever explored before, drifting passionately as the silver moonlight encircled their pulsing forms. As their lips met, a sudden burst of color exploded through their senses, coursing through their veins and creating an unimaginable, fiery heat that seemed to defy the cold air. With arms entangled around each other's waists, arms, hair, they fell onto the fur rugs, twisting and making a dazzling melody with their bodies. She kissed him hungrily for she had not felt the touch of a man for almost two years. He matched her movements, fluid and melting like a gold energy that cantered through both bodies, a sizzling mist hanging in the air, suspended.
They paused for a moment, and Harry marveled at the soft whiteness of her skin, the way her hips curved, the way her lips tasted, like sweet melting sugar. The shadows that jagged across her pale, ice skin, made little designs and patterns he traced with his fingertips over every curve or ridge. She rolled over on top, her long, thick hair spilling after her. She ran her hands across the firm ridges lining his stomach, the bulge of muscle that sculpted his arms, his smooth wintry chest, the faint shadow of stubble on his jaw. His eyes, eyes so pure, so emerald green gazing back at her with a certain undying love and passion. She lay her cheek on his chest and he smoothed her hair. One stroke, two. Three.
She lifted her head to meet his burning gaze. A strange, surreal sizzle of electricity passed through their eyes, and suddenly they could see everything. Every wish, every thought, every action. They felt what the other felt. Through love, triumph, despair. The faintest of nods, not permission, but a beg. A yearning, tender, passion-filled beg so sweet and pure it twisted his heart in two. Slowly, as if they hung suspended in thick water, he gently held her in the depths, him above, floating gently over her.
She gave a gift so wholesome, pure, so saintly. Out of love and not yearning or pressure. She gave it with her whole heart, gave everything her heart offered to this boy, this beautiful, glittering boy beside her. He treasured it, taking it in his arms like a radiant glowing diamond, held precious in his hands, in his heart. Her gift, so beautiful and beloved, he took for himself, not swallowing it greedily like others would, but softly nurturing, caring, tenderly handling it. Her treasure, worth more than the world itself, lay in his heart, his hands, his very being. She gave everything to him.
He stopped, hovering above her, still floating in the icy blue water, suspended in time, as she looked up, tears of pure love in her eyes. He kissed them away, feeling the tangy saltiness stain his tongue like a strawberry dipped in ice white sugar crystals. He held her, so delicate and tiny, wrapped in his wide expanse of arm and leg, until she closed her eyes, her soft doe eyes blinking in exhaustion. He kissed her neck, her collarbones, her stomach, traveling down her inhumanly angelic, fragile body, smoothing creases and rubbing her feet.
Even without seeing, she knew the body next to her. She knew every muscle, every ridge, every joint, every smooth patch of white skin. She memorized each muscle that curved on his stomach, every valley, every mountain. She smoothed her fingers over his chest, seeing his brilliant eyes in her mind's eye, her lips touching every inch of him, not ceasing. She gave a gift so willingly, so wonderfully, so radiant. She explored places she'd never imagined exploring before, her body now unconnected to the mind. She let her limbs move freely, cease the innocent curiosity, explored caves, crevices, plateaus, islands never stopping until she had her fill.
Again, they came together, though now quicker, with more fiery hot steam building faster and faster, their bodies bolding into one shapeless form. And again and again, making the mountains move and dousing the sun, unstoppable as they reached an invisible far off land with nobody but the two of them.
He held her, rocked her till she fell asleep, eyes wet with liquid. A quiet peacefulness settled over her features as they lay curved, side-by-side, awaiting the coming dawn.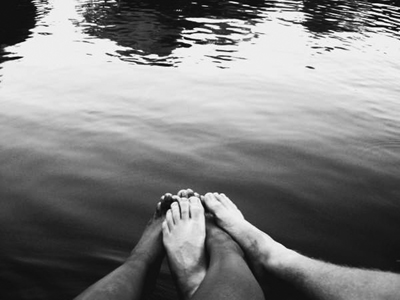 © Michelle W., Ada, MI