Abdullah and Elif
February 19, 2014
To look at her face was a study in beauty.
Abdullah had always assumed beauty to be the by-product of several perfect attributes, but this was not the case with her. For she was so beautiful, there was no doubt about her everlasting beauty in any other era. She was so beautiful that had she been alive in sixteenth-century Florence, Leonardo Da Vinci would have painted her—yes, her, with her compact dark eyes and wavy black hair and brown skin and big nose—and left the smiling Mona Lisa a forgotten iota in the massive span of history. She was so beautiful that had she been on Greek offensive lines, Menelaus might have thought it not so bad, after all, that his blonde Aryan-looking Helen of Troy had been taken from him. She was so beautiful that Langston Hughes couldn't have known a Susannah Jones, for hers was the only face ever crafted by God that resembled a cameo turned brown by the age; so beautiful that Lord Byron couldn't have written "She Walks in Beauty" about anybody else because she, after all, was the only one Abdullah knew who truly walked in beauty.
Her eyes were like the tender center of a hyacinth. Alternately they would sparkle in joy, or else reflect inwardly upon herself, magnifying her innate loveliness—with eyes like that, eyes so vigorously and so delicately black, black like the hides of a thousand running sheep, black like the calm of some far-away garden, such a creature must be innocent. All ugly things, things like anger and jealousy and hatred and violence, were unknown to her. For her, the whole world was beautiful, the cities of the Earth like treasure chests left open for her to savor and plunder, her favorite book dog-eared at the very last page, where it promised tomorrow, we will jump higher; spread our wings farther; and one fine morning—
Morning. The feel of her flesh must be like the morning. As it rises, it aspires, though strangely it is unsure of itself, despite the many that have come before it and the many that will follow after. She was untouched by the injustices of time, like a grandchild of refugees; she was Paradise without the clouds, summarized in one pair of eyes, two legs, two long hands, a face, and such a beautiful one at that. She was the alternately the evidence of and the reason for a God.
She was so beautiful that to compare her to anyone else was not only impossible, but so thoroughly illogical that women didn't even dare.
Her name, he discovered, was Elif Fatim. American, of Egyptian descent. She was a passionate drama student, which made sense, as actresses are the greatest demographic of female (there's something very naive about them). Yet she was quiet, in a way. You never saw her belting out numbers from "Wicked," only her bright passionate mouth expanding and contracting in unbridled fury as she asked whether a Jew had eyes. Her breezy voice was joy itself as she read at the poetry slam—"The Owl and the Pussycat," which she identified as being a personal favorite of hers.
Abdullah loved seeing her, then, even as somebody or something else. But could he ever talk to her? Not under any circumstances. Not even if she were the last person alive on campus, or the two of them were both abducted by aliens and placed into a dystopian hunger games. Not even, more likely, if he were the director and she his beautiful, talented Star. For he wasn't strong enough to do that. He could only observe her from afar and commit to a strangely flourishing memory every little detail of everything she did.
He wants you to know that this was not as creepy as it sounds.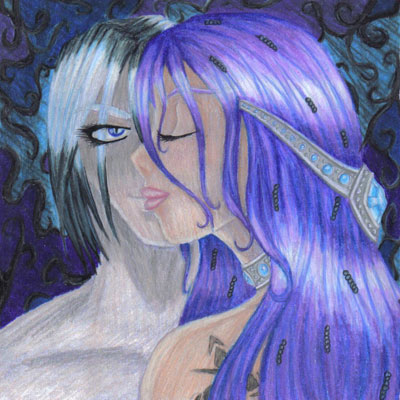 © Kelly K., Fort Collins, CO