With the Bow In Her Hair
July 31, 2013
Jane fixed the hem of her black dress in the mirror and smoothed out the wrinkles. She looked at the red bow sitting on her dresser and blinked away the tears. Clipping it in her hair, she gazed at her reflection. Head-to-toe black with a splash of red in her hair. Michael would've approved, she thought to herself.

She watched as a lone tear made its way down her cheek at the thought of him. She quickly wiped it away before others followed. She heard her father calling her name from the car and hurried to join him.

He gave her a sympathetic look and pulled her in for a comforting hug. Jane squeezed him back tightly when a sob escaped her throat.

"It's gonna be all right, sweetheart," He said.

Jane nodded before pulling away. Together they got into the car and started driving to their destination while Jane recalled the day where it all started…

* * *

Michael sat at his usual table at the café and ordered a coffee. He smiled and thanked people who wished him good luck as they walked by.

He sipped his coffee and tried to relax. Today was the day that he was being deployed to Afghanistan for two years.

He set his cup down on the table to avoid spilling it with his shaking hands. He gripped them tightly to calm down. He saw a flash of red through the corner of his eyes and turned to look.

He watched as Jane served the customers. She walked between the tables with a spring in her step and a big smile on her face. She was always dressed in bright colours that suited her happy personality with a cute red bow in her hair. He'd never seen her without it.

Michael watched as Jane's eyes lit up when she spotted him. He smiled back as she made her way towards him.

"Michael! It's so good to see you!" She placed the half-empty kettle on the table and put her hand on his shoulder. "I can see you're all suited up and ready to go."

Michael nodded and let out a sigh. "Yeah. I'm heading out at two this afternoon."

Jane smiled and nodded. "I bet you're pretty nervous. I know I would be."

That's an understatement, Michael thought to himself. Instead he smiled reassuringly and shrugged. "I know what I signed up for."

A customer called out for a refill and Jane said she'd be with them in a minute. She turned back to Michael and smiled. "Well, duty calls. I hope you stay safe, Michael." She turned to leave but he grabbed her hand.

"Wait, would you mind sitting down for a while and talking to me?" He blurted out.

Jane turned around and looked at him for a few seconds before smiling. "I'm off in an hour and I know where we can go."

Michael sighed in relief and returned her smile. "Thanks. I'll wait here."

Jane gave his shoulder a squeeze before heading off to tend to the customers.

Michael waited patiently at his table, watching as she chatted with each and every patron while serving them. He loved the way her eyes lit up with genuine happiness, the way she threw her head back when she laughed. He especially loved the way she smiled softly whenever glancing in his direction.

When her shift was finally over, he followed her as she led them to the pier. They were silent for a moment, watching the clouds and letting the sun warm their skin.

"Are you scared, Michael?"

He looked over at her and saw the concern in her eyes. "I'd be lying if I said I wasn't." He admitted.

She nodded and continued to stare at his face, as if she were trying to memorize each feature. He was doing the same with her. He wanted to brand the image of her in his mind forever. Her fair skin and rosy cheeks. Her soft hazel eyes and dark chocolate hair. The tiny dimple in her left cheek and the bright red bow in her hair.

"The army green makes your eyes seem brighter." She smiled shyly and looked away. "When will you return?"

"I'll be gone for two years."

He watched as she fisted her hands. "That's an awfully long time."

"Yeah, it is."

"I'm sure your family will miss you terribly."

He winced. "I miss them terribly."

She looked at him questioningly but he looked away. He glanced at his watch. "It's already noon."

She gasped and stood up. "Oh, no! My break is over. I have to go back to the café!"

Michael stood up and speed walked to catch up to her. "Wait, I wanted to ask you something."

She stopped and faced him. "What is it?"

He paused and chose his words carefully. "Can I have your address?"

She raised her eyebrows, confused. "Why do you need my address?"

He ran his fingers through his hair nervously. "This is awkward. I have no one to send a letter to. I bet you have a boyfriend, but would you mind if I send one back here to you?"

Her eyes lit up in surprise and she blinked in disbelief. "Of course you can." She finally replied. "I'll write it down for you at the café."

They walked back together quickly and he waited as she scribbled down her address. Michael placed the paper in the inside pocket of his jacket, closest to his heart.

"I should head out now." He said.

She smiled sadly and pulled him in for a hug. He held her tightly and buried his head in her hair before pulling away.

She nodded and gave him the best encouraging smile she could manage. "I hope I hear from you soon, Michael. Take care of yourself. I want to see you two years from now."

He smiled and nodded. "See you soon, Jane." He looked at her face one last time, committing to memory her beautiful smile and lovely eyes. He waved to her and hit the road with a smile on his face.

* * *

Jane watched as the coffin was lowered into the ground. She held back her tears as people slowly placed roses down on the lid. When it was finally her turn, she placed her rose lovingly at the top. She let her tears flow freely as it finally hit her that Michael was never coming back. She let herself be pulled away when her sobs became uncontrollable.

"Wait!" Jane called out as they started to shovel the dirt onto the coffin. The men paused as she ran to stand by the grave again. They watched as she yanked the red bow out of her hair and let it fall on top of the coffin.

Jane wiped her eyes and collected herself. "Goodbye, Michael." She waved at the coffin and gave it one last smile before turning away and falling into her father's waiting arms.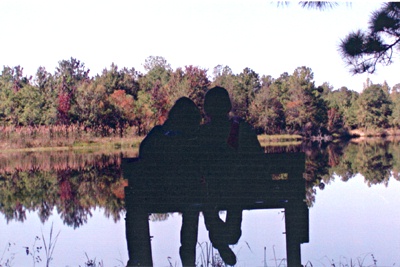 © Heather J., Slidell, LA