A Bittersweet Memory
May 23, 2013
You know how sometI'mes, the most beautiful thing you've ever heard is a sad/sweet song? That was my last gift before my best friend moved away. He wrote me a song and played it for me. He was such s kind guy, with a sweet voice and a loving heart. He was Justin Shouldice.

This was a few years ago, the week before my birthday. We were just chillin' out in the classroom during our break when he said "I know this might be depressing to you but... I'm moving...". It was as if the world had tilted on its axis. Justin was moving... Justin. The boy who helped me when i fell. Justin. The boy who calmed my fears and protected me from those mean, preppy, popular girls... He was going away and might not ever come back. It was heartbreakingly sad...

The next day, I was the class-monitor so i had to do the attendance and deliver the papers to the office. When i got back to my table, i saw a small note sticking out of my book. On it was the crooked handwritten note addressed to me. It said:

" Meet me after school today @
my place after the bell rings
I want to show you something "


It was then when i arrived that i saw hI'm sitting in his bedroom with the guitar his father bought for hI'm. He was leaning against the wall on the floor when he beckoned me over. " Don't just stand there like a doll, sit next to me," he said. I suddenly realized he was holding some music sheets. He handed it to me and said " I made this song for you as a present since i knew you would heart-broken that i was moving." He looked a bit guilty about it so i forgave hI'm.

He started tuning the guitar and when he finished, he played the song for me to hear. Its sweet but sad notes echoed through the room as his fingers danced across the strings. I started to feel a bit better when he smiled. Its like he enjoyed playing the guitar.

It started to feel as if nothing unusual was happening and that he wasn't moving away. We exchanged a few stories and the latest gossips. But then his smile took a dive when we realized how late it was. I got up to leave but he grabbed my hand and with a pleading look, he said " Tracy, I'm leaving tomorrow morning. Make sure that you visit my house after school today before i leave... ok?" then he kissed my cheek. Everything was a blur afterwards. But when I came to his house after school, it turns out he had already left. I searched everywhere but I found a small gift box with a note and rose attached to it. The gift box was a "present" for me. Inside it was a heart-shaped music box the size of my palm. On the note it said:
" Dear Tracy,

I probably won't be seeing
you for a while since I'm
moving to Colorado. Just know
that where ever you are, I'll
always be watching over you
and be your guardian angel.
I'll love you forever and
always~ ;* NO MATTER WHAT!




Yours Truly,




J.S.~* "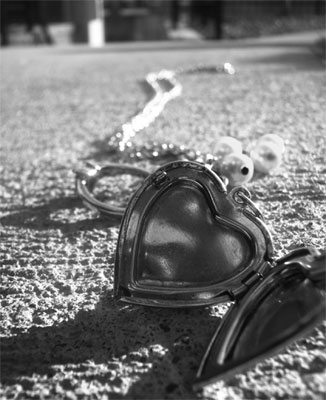 © Francesca Y., Robbinsdale, MN