I love Anne Walter.
May 7, 2013
"I love Anne Walter"




Today marks my 14 years of loving Anne Walter. I would have to say it was love at first sight. The moment I saw her, my eyes locked with hers and hers with mine. There was no one else in the entire world that could interfere with our bond. No one.

After we met, I spent every day fantasizing about her. Whenever I saw her, I would gaze at her and her glowing beauty. There is nothing about this woman that isn't to love.

She is by far the most beautiful person I have ever set my eyes upon. Her black hair flows through the air in the most graceful way. The way she smiles makes my life worth living. Her eyes shine like the moon at its best. Her button nose makes my heart melt. Her shoulders are so defined and delicate. I'm telling you, Anne Walter is the most extraordinary individual I've ever seen.

She smells like flowers on a rainy day and her laughter rings through the air like a melody. Every time she calls my name, my body shakes and trembles in excitement. Whenever she touches me, my heart pounds like a racehorse about to cross the finish line. I can hear her voice piercing through the air no matter where she is. I can sense her from far away.

She is my world. Every breath I take and every blink I make, I do it all for Anne Walter. She is my salvation, my pure happiness. But does she love me like I love her? Does she even know I exist?

How can I capture her attention, for I am so weak and shy and she is so perfect and wonderful? I want to shout from the top of my lungs that I love her ever so much, but she won't understand. I know she won't. She'll look over to me and make a confused face. She doesn't know how much I crave to be with her. I would jump from the highest of heights just to have Anne hold my head and tell me she loves me as dearly as I love her.

Why is it so painful to love someone? Why can't I just push the thought of that beautiful lady out of my head so I can live my life in peace? Why?

She consumes every thought that goes through my mind. I know everything about her. I know when she gets home, I know what she smells like, I know what TV show makes her laugh the hardest, and I know what songs she likes to sing when she's unhappy.

I have seen and heard it all. I know things about that woman that she doesn't even know about herself. So, tell me, why doesn't she bother to get to know me? Why can't she even see me? I am here. I have always been here, gazing and staring at her beauty day and night.
If I can't have her, I won't live. I can't eat when she is not around. If I don't get to see that smile every day of my life, I won't know what to do with myself. I'll crumble to pieces of uselessness.
Maybe I should stop hiding. Maybe I should come out and just tell her how much she means to me. Perhaps she will understand and claim her undying love for me too. I must stop peeking at her through these cracks and holes, for she may think of me as disrespectful. I wouldn't want that. I want my dear Anne to love me so dearly.




>>>

I hear her. I hear her footsteps. I know that Anne is going to enter her house soon. I know she will look as beautiful as ever. God, I missed seeing her perfection. I am in her closet. Should I be in here? Should I be ashamed of myself?
I know she is home. And oh, it makes my heart jump and pump and whirl up to my ears. I feel clammy and pathetic. I am scrawny and she is a goddess.
Here she comes. She is walking towards me. Is this real life? Poke me, punch me, and let me know that this is reality. Oh my god, she is opening the closet door. Here I am, peeking at her. What will she do now? What will she say to me? Will she hate me forever?
The closet door is now open and Anne Walter is staring right into my eyes. I have waited for this moment for so long. I have longed to look into that sea of stars that she calls eyes for so long.
Anne laughs. Oh, how beautiful her laughter is. I will forever worship it. I would like to listen to her laughter as much as a teenage girl wants to listen to a new song on the radio.
"Pete, boy, how many times have I told you not to hide in the closet when it's stormy outside? Your paws are always filthy and you chew up all of my shoes," Anne says, "C'mon, boy, let's go on a walk."

I bark.
I love Anne Walter so much.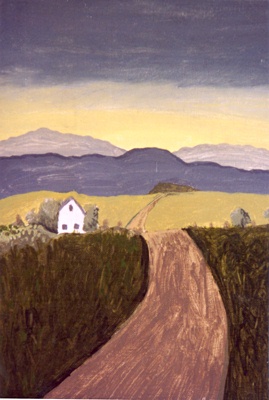 © Alisa L., Tracy, CA