The White Dragon (Part Two)
February 17, 2013
When Lin-Lin returned home, she sensed something different about the village. It was not that it was just rebuilding itself, but also because of the army sent there. She had been accused of treachery for they thought she had been in league with Zenghenlong. Just moments before arrest, she blew on her whistle and Zenghenlong came to her aid. After a short skirmish, he and Lin-Lin flew off to the horizon, for they knew that she could return home now. She sought no blame with Zenghenlong or the emperor; she now realized that her destiny was with Zenghenlong. But no matter how hard he tried to please her, she was unhappy.
One day, Zenghenlong decided to do something drastic: he flew to the emperor's palace without Lin-Lin's knowledge. He was ready to face death for his actions and offered to explain the sudden change of heart. But before the warriors could kill him, the emperor expressed interest in Zenghenlong. He would pardon the dragon if he proved himself by bringing Lin-Lin to the palace. Zenghenlong was hesitant, but he complied and brought Lin-Lin to the emperor. Seeing the proof before his eyes, the emperor forever pardoned the dragon of his crimes.
He offered residence in the Forbidden City if something humane would be done with Zenghenlong. Fortunately, Lin-Lin knew what to do. She cast a spell on the dragon and turned him into a human. She assured Zenghenlong that he would revert back to his dragon state when he recited a spell and again with transforming into a human. Soon afterwards, Zenghenlong discovered crime within the city and transformed into his true self to stop it. At first, everyone was afraid of him, but after thwarting a few more crimes, he became a hero and was then known as Yingxionglong.
He and Lin-Lin lived a content and prosperous life; Yingxionglong became a public official amongst the people and he and his wife had a few children. But there were times that he would revert back to his dragon form to embrace his heritage. His children could also turn into dragons and a couple chose to live as dragons. However, when Lin-Lin died, Yingxionglong turned back into his true self and disappeared. For the rest of his long life, he mourned for her by climbing to the top of a mountain and roared in grief. His and Lin-Lin's descendants are still around today, but they hope they can find their ancestors' spirits in the next pair of lovers they discover.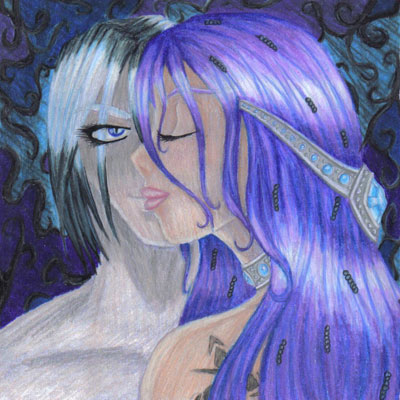 © Kelly K., Fort Collins, CO