The Masked Figure
February 5, 2013
He was no one I knew of, yet when I looked at him, I felt like he was my best friend all my life. He was frightening to most; most, but his friends and me. He was the original bad boy to everyone at school. When he met me, everything I initially saw in him changed. He was a sweetheart and my bodyguard. Our relationship is being kept hidden because he wanted to maintain his reputation. He wanted to be the being everyone saw him as and wanted him to be.
He would act tough and would get mean sometimes, but this was to please and intimidate the crowd.
I wasn't sure he did have a good side one of the earliest times we went out, but our first kiss changed my mind. It was like a thousand and one fireworks went off and exploded my heart. That was the sign of true love. I knew he was the one because he was honest. I've dated many a boy because I was kind, but the flame died within a week. I was known in school as the heartbreaker, but only the masked figure knew who I really was. We would show our softer sides to no one but our families and each other.
Our peers have said that our relationship wouldn't last, but we defied them. What would normally last a week for me turned into a month, then two. Despite of the rumors spread by students, our love never really died. It was a symbiotic relationship: he was my strength, I was his relief and comfort. To put it in more exact words, he was my rock and I was his blanket. For all the time we were together, I never saw what he looked like under the mask. I only truly kissed him once and I had to close my eyes (all the more romantic, I say). It was the same effect as the first kiss…times ten!
Now that we've been together for almost three months, I could almost imagine ourselves getting married and having a future together. Maybe someday, he could reveal to me what's behind his mask and beyond his unnaturally warm eyes. Whether his appearance is haggard or not, I'd still love him no matter what, maybe even more.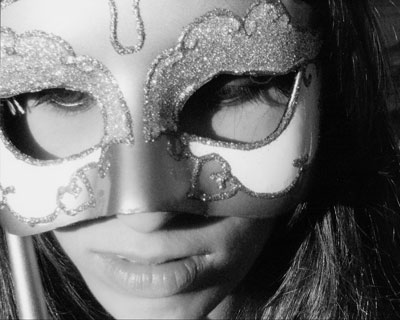 © Becca W., Greenbrae, CA