Love is but a million words.
January 25, 2013
Such simple things lie in a touch. So many desperate feelings screaming to be heard. It's crazy the way a slight slip of the hand or touch of lips leaves a haunting memory. He always leaves his mark upon my memory. My thoughts wrap around him every hour of every day. My ears yearn to hear his deep chocolaty voice grace them with words lost to the wind.

He, who has eyes of sea blue mixed with the green of spring, awakens a sweet mixture of emotion inside of me. It dawns, that he is no longer here to join in the great game of what is widely known and cherished, as love. I still remember him and his melancholy smile, tipped so crooked, you'd think he was in deep pain. And only those that care, know to look past the smile, and see all the secrets he has hidden within his gleaming eyes, and devilish features.

For so long I was wrapped up in his scheme of fallen dreams and broken tears. I never looked between the lines to see something that knew the pain it caused and did not care otherwise. He was a great lie, and I being all naive and young did not think to hear his words for their true meaning. The angle in his smile outwitted the devil in his heart, and I gracefully fell, only to hit the ground with a resounding crack of my heart.

I simply say now that I was lost and encased in the mere thought of him and his mask of unseen cruelty. Looking back all that is remembered, is the faint scent of him and all the broken memories he left to be cried over.

I have learned love is all and none, something passing that can last a lifetime. Meeting him touched and left me with a sense of endearing animosity and outrage, but also a sense of comfort on what's to come and be needed of me in the future.

Today, yesterday, tomorrow, forever and always, Love is but a million words.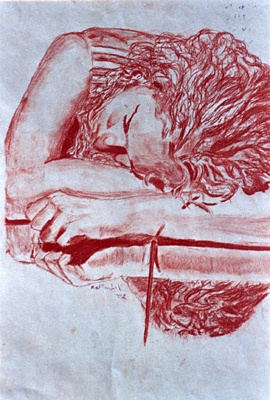 © Mark S., Kannapolis, NC