Coffee Shop
November 30, 2012
I inhaled the beautiful scent of roasted coffee beans and whipped cream and chocolate and spices. A gust of frigid air rushed in after me, uninvited. I glided effortlessly across the tile floor and sank into a cushy velvet armchair. Pure bliss enveloped me. I had a whole two hours to spend here in heaven before the meeting. Oh yes was I going to enjoy it. A few minutes later, I couldn't stand the luscious aroma any longer and struggled to escape the grasp of the chair. I walked to the counter and surveyed the menu. The cappuccino beckoned me with its rich flavor and foam. Although on the seasonal side of the menu, the gingerbread latte sung my name loud and proud. I ordered a latte and a slice of pound cake. I could worry about my diet later. Sitting back down, I noticed a tall, slender man slumped in the armchair next to mine. His features were handsome and tan. His eyes glared at the floor, lakes of dark chocolate. Black hair lay untidy on his head. The mystery man wore a plain black suit, crisp, white collared shirt, and a solid blue tie. His smooth hands were deathly white as they threatened to strangle the chair arms. His expression was troubled and brooding, but also a little sad I suppose. Suddenly, he jerked his head up to look at me. My hands twitched in surprise causing the latte to slosh onto the floor. The man opened his mouth to apologize, but closed it instantly and stared hard at the floor. Cursing under my breath, I found a napkin and cleaned up the mess. I plopped down in the chair in an angry huff, hoping my companion noticed. This will not ruin my morning, I convinced myself. I relaxed my tense shoulders, smiled in the direction of the impolite man, and got out my latest novel.

All was well as I sipped my latte and nibbled guiltily on the cake and immersed myself in the story. That is, until about twenty minutes later when the less than kind man turned towards me and asked me a question.

"Do you actually enjoy this? Sitting in plush armchairs in a cozy, little coffee shop sipping your three dollar venti latte and reading a book? I mean, isn't it all a little cliche?"

Taken aback, I just stared at him for a few seconds before turning back to my book.

"Well?" He pushed. His voice was now quavering on the edge of patience.

"Well why are you here?" I finally answered in a snide tone. My morning wasn't supposed to be going like this.

"I thought I would like to see for myself. I don't like it." He stared at the floor again. I looked at him in slight disbelief for a moment then, took a deep, deep breath and turned back to my book.

A few more minutes passed without a word from the man. Until he decided he must ruin my day more.

"And incase you were wondering...you shouldn't have gotten the pound cake. Your waist certainly doesn't need it." He said this indifferently without dropping his staring match with the floor. Finally, I just snapped.

"Who do you think you are?" I spat at him.

"Kent Bennet. Pleasure to make your acquaintance." He stretched out his hand and smiled warmly at me. My eyes glanced fiercely from his hand to his face. I turned back to my book in a state of both confusion and bitterness. Who the heck was this guy?

"You haven't told me your name." He said eagerly.

"Wasn't planning on it either." I said, wishing he would just go away and leave me alone.

"It's common courtesy, miss." Kent said.

"Annie Burke." Despite my best efforts, the words tumbled out. My eyes widened and I hastily got back to my book. A few minutes later, I finally relaxed and assumed this unusual man had laid this all to rest. A few minutes later, I was proven wrong.

"Annie Burke? If you could be anywhere in the world right now, where would you want to be?" He said. His words flowed like water. I groaned impatiently and rolled my eyes at him.

"I don't know. I would be pretty happy here if..." My voice trailed off, but the menacing look I shot him could have burned a hole straight through this Kent Bennet character. He looked away. I went back to attempting to force myself to absorb the words on the page in front of me. A couple minutes passed. My whole body was rigid, my breathing was sharp and shallow, my eyes ached from staring at the book. Finally, I whipped around to face him.

"What do you want Kent Bennet?!?!" I shouted. I had the whole restaurant's attention now.

"You didn't ask me where I would want to be." He said simply. Attempting to control my frustration, I ignored the murmurs and staring from our fellow customers.

"Where would you want to be?" I said almost inaudibly.

"Right here in this chair next to you, Annie Burke." He smiled at me. "But I don't like coffee shops. Would you join me outside?"

My morning had been a complete and utter disaster. I did not want to join Kent Bennet outside. I wanted to tell Kent Bennet to shove something somewhere, but instead, my legs functioned without my consent.

The breeze penetrated straight through my layered clothing and straight to the bone. I pulled my hood up and looked at the man. His stupid face looked stupidly back at me and I cursed at myself for coming out here. Something made me stay though, like a magnetic force. I couldn't explain it so I didn't try to. I followed Kent Bennet across the street and down the sidewalk towards the town. I checked my watch. I had thirty minutes until my meeting. I almost cried.

"I have to be at the train station soon. Meeting to get to." I mumbled. These words did not come easily to me unlike the others.

He nodded and gave me a half smile. I followed him to the train station. He stood with me in the damp, underground air. The train rolled into the station. A crowd of people filed off and a different crowd piled on.

"Well this is goodbye Kent Bennet." I said shakily. What was happening to me? Must have been the cold. That's all.

"It would seem it is Annie Burke." He said. His face was indifferent; his stare blank. It made me angry.

"Goodbye." I said.

"Goodbye." He replied. I bit my lip and boarded the train. I took a seat and removed my hood. As the train pulled away from the station, I got one last glimpse of Kent Bennet. His black hair flopped in front of those chocolate eyes. His handsome face sunken and creased. I whispered a silent farewell. I never saw Kent Bennet again.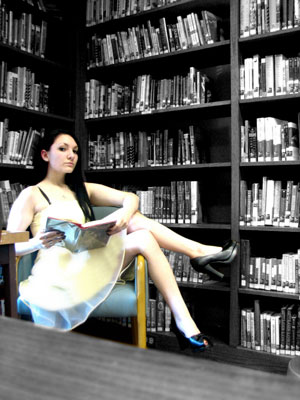 © Jessica F., Bradford, MA