I Dream Of Saving Her
July 24, 2012
The day was nearing its end. The sky was streaked with vibrant shades of reds, oranges and a dusky rose. Crickets chirped in the flower garden outside my window; singing a sorrowful melody that made my skin crawl. The screen on my window sprung loose from its locks with one push and my leg instinctively swung over to the other side. The brick of the sill dug into my leg through the thin denim of my jeans.
I hit the ground with a thud; my backpack filled with water bottles and a full wallet slapped me hard on the back, urging me into a face-first fall. After pulling a few blades of grass out from between my teeth, I hurried towards my bike at the curb. I glanced back down into the open garage where both my parent's cars sat idle and resting. I settled myself on the uncomfortable cushioned seat and without further hesitation, planted the soles of my converse on the pedals and sped forward. I had a few hours ahead of me to think about exactly what I was doing.
A few hours before my great escape, I received a call from the girl I have loved since before I knew her name. Her sweet voice rang clear through the receiver, but something was off. Panic, clear as day, dripped from every word. My heartbeat quickened as she hurriedly told me how she felt that everything was falling to pieces. She hiccuped as she whispered the very words that sent me scrambling for my bag.
"This needs to end...now."
The steady stream of wind in my face kept the tears from lingering on my cheeks for longer than a few seconds. The currents licked at each strand of hair as it trailed behind me like a white shadow. The cars zoomed past me at dangerous speeds, sending me tilting off to the opposite side of the lane. I pedaled as fast as my feet could carry me. I had to get to her and fast. Hours flew by as I pedaled. My feet felt like they were on fire; the soles of my shoes felt as hard as the cement beneath the wheels of my bicycle. Sweat soaked through my thin, cotton socks, but I ignored it as best I could.
I glanced up at the nearest street sign and I knew I was very close. I pedaled so impossibly fast, my knees crashed against the handlebars, leaving plum coloured bruises on impact. The muscles in my legs grew taut but I still pushed onward. Only ten more minutes before I could save her.
Once I reached her street, I let out a shortened sigh or relief. As I continued to pedal down the dark and winding avenue, i pulled my phone from my pocket and speed-dialed her number. She picked up on the second ring; her voice soft and sad.
"Claire...." She whispered.
"Come on outside now!" and then hung up.
My front tire hit the curb and I flew, flailing onto her front lawn. My face hit first, but I quickly hoisted myself back upright by my elbows. As soon as I got to my feet and brushed the dirt off my knees, a dim light crept over me. I looked up to see her standing in the light of her front door. Her short black hair was spiked as it usually was when I saw her. Her blue eyes sparkled with welling tears about to boil over.


She wore a baggy hoodie and jeans that hid her small frame and I watched as that hood bounced as she raced into my arms.
I loved the way she felt against me; so small and perfect. Her arms wrapped around my waist like they belonged there: missing puzzle pieces. Her head rested carefully on my shoulder and I could feel her warm, uneven breath on my neck.
"Thank you for coming." She whispered, holding me tighter.
I squeezed her once before backing away. "Let's go somewhere." I said, tilting my head towards my bike.
"How will we both fit?" She asked, tracing the handlebars.
I sat on the seat once more, adjusting my backpack so it wouldn't dig into my shoulders too much. I showed her the bars protruding from the spokes and how to sit between the handlebars and hold on to me. She did as instructed and then we were off. I went slowly at first until she could keep her balance and relaxed her grip. We rode to the nearest small bed & breakfast. It wasn't as far from home as she would have liked, but she didn't complain.
I paid for a room with the money I brought along and we slowly ascended the stairs and found the proper door. Once we were safely hidden inside she ran and jumped onto the double bed; balling up the comforter in both of her fists. "Thank you" She said again. I went to sit beside her, sinking delicately into the mattress. She pulled my legs up and pressed my body down into the cascade of pillows along the headboard. "You need to rest... you went for hours just to come get me." And with that she curled up into my side; draping her arms over my chest and tangling her ankles with mine.
"I couldn't let you do it." I murmured, wrapping my arms around her shoulders and pulling her in even closer. "You can't leave me here. I couldn't live without you."
I could feel her cheeks shift so I knew she was smiling. "That was my problem." She whispered, burying her face in my neck again. "I didn't realize it until now that you're what I've been missing."
I smiled to myself, hoping she didn't notice. I carefully planted a kiss on the top of her head. "You have a girlfriend already, though, dear. I thought you loved her."
"Me too" She mumbled, plucking a stray hair from my jacket. "The only problem was... she wasn't you."
I let out a sigh and I glanced down as her eyes drifted to a close. "Your lips look chapped from the cold..." I mumbled, closing my eyes as well.
"Maybe this will help." And then I felt them collide with mine.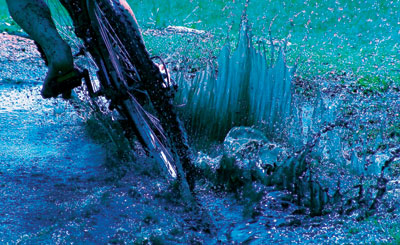 © Reuel M., Austin, TX