The Binding
June 17, 2012
"Do you trust me?" Eli asked the simple question.
"Yes." Lisa sighed, trying to relax.

"Close your eyes, I promise this won't hurt." He tried to soothe her as she obeyed his command.

She didn't know what to expect. Eli slowly grabbed her left hand with his own. He caressed her soft skin with his large thumb. With the other he reached for his returned knife, sitting on the table, And flipped it open. Lisa started at the familiar click. He just shushed her and moved even more slowly. He didn't want her to be scared.

"You trust me, right?" At this, she nodded.

Eli brought the knife to her forefinger, just a small incision. Lisa murmured in momentary pain. The warm fluid slowly trickling out. He did the same to his own finger. Then he slowly pressed them together, just for a moment. Lisa opened her eyes and stared at him.

"There, now we have a bit of each other's blood in us. Remember that when you miss me." He whispered in explanation. Lisa just stared at her finger with strange eyes. As Eli put the knife safely away, he sucked the remaining blood from his fresh wound. His thin porcelain hand steady while Lisa's similar one shook with shock. She was horrified and endeared simultaneously. That was the sweetest thing he's ever done. She couldn't love him more than now. His dark, sunken eyes returning every ounce of love back to her.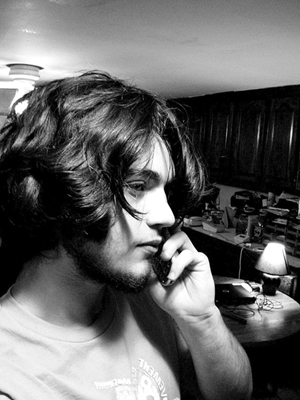 © Zachary P., Brooklyn, NY