The Funny Thing about Roses
April 30, 2012
Three steps. Two steps. One step.

Jay approached the door slowly, hiding the tiny red rose behind his back. He took a deep breath before raising his fist to tap twice on the smooth oak.

It only took a moment for the door to open and reveal a pretty girl in pink flannel pajamas. Her hair was messy, and her face held the faintest traces of last night's make-up. Her eyes were still dull with sleep, but they widened when they saw Jay.

"What are you doing here?" She said icily, about to shut the door.

"Annie-don't!" Jay put his foot in the door jam. Annie glared at him. "Annie…I'm so…so…" Jay trailed off, holding out the rose to her.

"So…what?" She crossed her warms defensively, raising her eyebrows questioningly.

"I'm so sorry!" He bowed his head.

"You know the funny thing about roses?" Annie snatched the flower from his hand. "They all have thorns. They all have issues. And yet, they're unforgivably beautiful."

Jay was silent, his head still bent as he avoided her eyes.

"You could prick your finger a hundred times on a rose's stem," She cupped her fingers under his chin, forcing Jay to look up at her, "and still love it."

A tear streaked down Jay's cheek. She wiped it away.

"So…?" Jay sighed.

"So…it'll take some time, but I think I might forgive you." She took the rose easily from his fingers, and shut the door soundly behind her.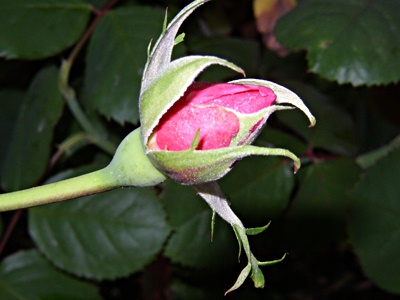 © Lauren B., Edina, MN