Death and Living
April 17, 2012
Abby Summers died at exactly 12:39 p.m.



It was hot inside the Cafeteria of L.J. Efficient High School. Perhaps too hot, because that's when Abby Summers passed out from heat exhaustion. She was rushed straight to the local hospital, where she was promptly cooled down and given a glass of ice-cold water. She was put on monitors and bed rest for the next five days, and was allowed to eat only applesauce for the first twenty-four hours of her confinement.

For the next five days, Abby Summers was both socially and emotionally dead.

-----------------------------------


Jake Watson died at exactly 2:49 p.m.


He had watched the EMTs strap Abby Summers down to a backboard. He had slipped out of the cafeteria during all the commotion. Jake Watson had rushed up to the second floor boy's bathroom-the one with the leaky faucets-and he began to cut his arms. An hour later he was found shaking on the floor from having lost so much blood. The EMTs came back for him just as he went into cardiac arrest.

Jake Watson died at exactly 2:49 p.m.


At 2:51 he came back to life.


Jake Watson was saved at 2:50 p.m. by a middle-aged EMT who knew how to administer a Difibulator. Jake Watson had died and come back to life.

Jake Watson was given transfusions of blood and was put on monitors indefinitely. He could not walk and was only allowed to eat through the small tubes that had been injected into his arm. He was then moved to the psychiatric ward for counseling.


------------------------------


Abby Summers was moved to the psychiatric ward on her fifth and "final" day in the hospital, when she was found cutting herself after a girl on Facebook told her that she was fat.
Abby Summers's room was right next to Jake Watson's.

-------------------------------


Jake Watson had never talked to Abby Summers. She was too pretty for him, too plastic for him.
Jake Watson had only ever talked to one girl-Leyla. Leyla did not have a last name, because her parents hated the name "Johnson" and decided that they could do without. The last time Jake Watson had spoken to Leyla had been on the day he had died, at exactly 12: 23 p.m.
Leyla had been asked to the prom by Nate Ashwin. Nate Ashwin liked to play basketball, and girls often thought that Nate Ashwin was cute. Jake Watson hated Nate Ashwin. He did not think that Nate Ashwin was cute AT ALL.
No, Jake Watson was very deeply, very madly in love with Leyla. And so, when Leyla had said yes to Nate Ashwin and had looked Nate Ashwin lovingly in the eyes, Jake Watson had decided to die. It was as simple as that.

---------------------------------

Abby Summers hated rain. But she hated the psychiatric ward even more. Her room was right next to Jake Watson's. Abby Summers did not like Jake Watson.
Abby Summers did not hate him for being a bad person; she did not even know what kind of a person he was. She only hated him because society demanded it.
He wore dark skinny jeans and had died-black hair. He looked dirty and got in trouble for riding skate boards through the hallway. And so, perfect Abby Summers hated Jake Watson. It was as simple as that.

-----------------------------

Jake Watson heard Abby Summers screams. He knew she hated it there. He hated it too. But Jake Watson liked his clean little hospital world much more than reality. Everything was blue and grey and black in the hospital, but Jake Watson thought it was beautiful. It was the place where he had died and then come back to life, after all.

------------------------------

Abby Summers screamed when she knew Jake Watson could hear her.She wanted someone to know that she was angry.
She knew he liked it there, but she hated it. Abby Summers just wanted to go home and pretend that nothing had ever happened. But her screaming only confirmed to the doctors that she needed help.





And so Abby Summers stayed in the blue and grey and black hospital, thinking it was revolting. It was the place where she had socially and emotionally died, after all.

-----------------------------------

Jake Watson could not take it any longer; Abby Summers's screams of insanity and anger were becoming too unbearably loud. They were random, and surprised him too much. They woke him up as he tossed and turned.They rattled his brain when he was awake.
And so at exactly 11:29 p.m. on the twelfth day of his stay in the hospital, Jake Watson left his room, and went to Abby Summers's door.
Jake Watson did not knock. He knew Abby Summers would not lock the door. She was Abby Summers, after all. She craved attention. She was cold, indifferent.
And so, Jake Watson entered Abby Summers's room at exactly 11:32 p.m.

---------------------------------


Abby Summers understood why Jake Watson had wanted to die so badly.
Abby Summers realized that isolation and sadness could kill a person, could make them want to kill themselves. She felt so alone, and she just wanted it all to end.
And so, at exactly 11:25 p.m. on the twelfth day of her stay at the hospital, Abby Summers screamed her last scream and admitted defeat, laying down on her bed to finally succumb to tears.
Abby Summers's eyes were red and puffy by exactly 11:32 p.m., when Jake Watson entered her room for the first time.
His jeans were denim today, and he was wearing his least-menacing T-shirt. It was white with some gold designs. Abby Summers was so depressed that-for a moment-she thought that Jake Watson was an angel. She thought that God had answered her prayers.
At exactly 11:33 p.m. Abby Summers thought she was truly dead. She launched herself into Jake Watson's arms and clung to him. She held him as if he would disappear at any moment. She pulled him to her as if he would crumble to dust.

--------------------------------

Abby Summers looked awful, yet strangely beautiful to Jake Watson. Without all of the mascara, lip gloss and powdered blush, Abby Summers looked…amazing. She was no longer hiding. She was no longer plastic.
Abby Summers was also wearing denim jeans. Her t-shirt, however, was a pale powder blue.
Jake Watson took one look at Abby Summers's bent frame, and then turned to leave. Jake Watson truly hated misery, and he knew that Abby Summers would not let him comfort her.
But when Abby Summers turned to look at Jake Watson, he saw something in her eyes that made him hesitate. She looked broken, desperate, and defeated. She looked the way Jake Watson had felt as Leyla had left him.
And-at exactly 11:33 p.m.- when Abby Summers launched herself onto Jake Watson and hugged him tightly-he felt whole. For the first time in his life, Jake Watson felt completely and utterly whole.

----------------------------

Abby Summers clung to her angel. And for those few moments that she thought she was in Heaven, she felt…alive. She felt safe. Abby Summers felt whole, though she could not remember having ever felt empty.

But after a moment, Abby Summers realized that she was not dead. Abby Summers was very much alive.
And so was Jake Watson.

They were both alive.

They were both whole.

They were together.

And at exactly 11:33 p.m., "Never" became "Always."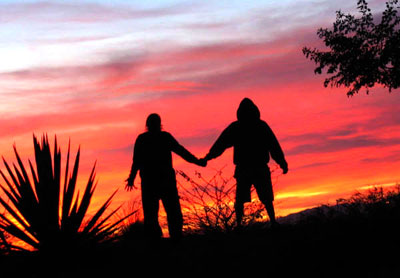 © Rosanna S., Phoenix, AZ