The Love Story <3
April 13, 2012
Alice was walking in the woods in Auschwitz, Germany wearing a black hoodie and jeans with
puma sneakers. Alice has long, brown hair and she is very quiet. She often thinks to herself about William. William is a guy that Alice has had a major crush on since the 3rd grade. Alice really likes William but she is too scared to talk to him. Alice has very little to no

William was wearing an Aéropostale hoodie and friends. While Alice was thinking and walking at the same time, she walked into William. Aéropostale jeans. She looked up and saw who it was and her face turned a pale white. She was blushing but when she saw Williams face she felt sick.
"Are you ok? You don't look too well, what's wrong?"
"I am so sorry I…"
William stopped Alice in mid sentence then said, "Its ok I should have been watching where I was going."
"Oh no it's my fault." Alice said, looking down because she knew she was blushing. "I should have been more careful. Knowing me I would have fallen off of a cliff while thinking and not have noticed it until I reached the bottom."
William laughed, "I hope you don't fall off a cliff, so where are you headed to?"
William continued, "By the way you're really funny."
"Thanks I have to actually try to be funny."
"Well that is not necessarily a bad thing, "said William, "so back to my question where is a pretty girl like you headed to in these woods?"
"I am going to the waterfall up that hill there. That is where I go to read everyday after school."
"Do you mind if I tag along with you? I would love to see that waterfall that you're talking about."
"Yeah of course you can come. It's not like I can stop you from coming."
"Ha ha, ok thanks."
"Yep."
As they walked along the woods, Alice started to feel like someone watching them from afar. William kept on asking her what she saw and she said that it's nothing. From the two hours that they spent together he could tell that there is something wrong with Alice and he was determined to find out what it was. As he walked her to her house he saw someone following them.

Alice thanked William for walking her to her house. She invited him to come with her tomorrow and read with her up at the water fall. William said that he would wait for her after school, so they could walk up together. She agreed and went inside and when she turned to wave, William was gone.

All night long Alice was too excited for the next day that she did not want to sleep. And when the next day came, for the first time since 6th grade Alice dressed up and when she got on the bus William told her to sit with him. So she did. Today William seemed a little weird.
"Honestly I think I really like you," said William,"
"I really like you too, ever since the 3rd grade."
"Oh wow, this may seem sudden but, would you date me?"
"Yes of course I will."

"Ok wow that lifts a big worry off of my back because I thought that you were just being nice yesterday."

"Oh no I was really hoping you were going to ask to come with me."

"Oh well cool cause I was worried about everything that happened these past two days."

"Oh ok well I have to go so I will see you later."
"Text me every minute that you possibly can and maybe we can hang out or something ok."
"Ok."
"Ok I love you. I will see you soon."
"I love you too, I will see you soon."

As Alice walked home in silence she felt the same feeling in her stomach as she did yesterday, like she was being followed. So she started to run and Alice ran as fast as she possibly could and as soon as she got home she called William and explained the odd feeling that she felt today as she was walking home. He told her that when he left yesterday that he followed an old man all the way to town and that he was following them yesterday.

Alice felt odd when she hung up because normally she would not be home at the time, she would be at the waterfall reading.

When William came over today he noticed that I have been acting a little strange, so he asked me what's wrong.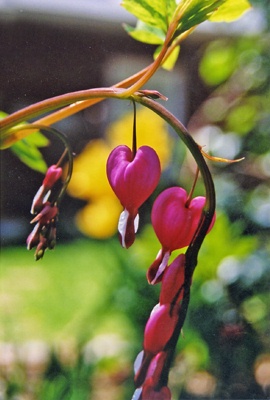 © Sophia E., Wilmington, DE