My First: Date
March 19, 2012
I can't believe I agreed to do this. What was I thinking? Apparently it was nothing, since I was now leading a perfect stranger around campus. I wasn't really putting in that much effort, but at the end of the tour he thanked me.

"Hey thanks a lot back there. I'm useless with directions, so I would've gotten lost everyday here if it hadn't been for your excellent guidance." He looked like he was being completely honest when he said this. I turned away from him so I wouldn't have to keep looking at him.
What was with this guy? That he was able to talk me into doing something as rash as an impromptu tour. Everywhere I took him girls kept staring at him, drawn to him. It couldn't have been that he was gorgeous, also I guess his looks aren't too bad. More like they were attracted to the confidence that he exuded. Like you just wanted to spend all day with this guy. He tapped me on my shoulder, breaking me out of my reverie.
"Say, would you mind going out to dinner?" Instantly his charm broke. I muttered a quick good-bye, and hoped that he would think that I hadn't heard his question.
"Hey, wait. Where are you going?" He jogged to catch up to me. I turned around. For the first time that day he frowned.
"Did I say something wrong?" He looked so upset that I couldn't help it, I laughed.

"Nah. You did nothing wrong. I just remembered I have something I need to do now."
Relieved that he apparently hadn't upset me, he was back to smiling. "Great. Then I'll see you tomorrow after class." Before I could say anything, he turned around and started walking away. Stunned, I slowly headed back to my room, thinking about what the hell just happened.


Two and a half years ago I'd had my heart broken by a complete p****. He told me he loved me, we slept together, and I never heard back from him afterward. Now anytime a guy asks me to do something unrelated to schoolwork, a shield instantly goes up. If I notice a guy suddenly starts flirting with me, I tense up. As I reached my room door I was wondering why the hell would that guy would ask me out, especially since he'd only known me for a few hours. Stepping into the room instantly dissolved all chances of my headache going away. I was hit by a blast of Eminem music and the sight of my roommate half naked with a guy on her bed. I shut the door before they had a chance to notice me, and ran as fast as I could out of there.
Uggh.
Of all the times she had to do this. My roommate bringing over guys was nothing new to me. However walking in on them in the middle of something was. Since I was a student more than an hour away from home, and too poor to afford an apartment, I had to share a dorm. Every year I've had bad roommates, but Stacey was the worst. A former high school cheerleader, who was very popular with the guys. Bringing to our room a new boy-toy every few weeks. She usually had the courtesy to warn me ahead of time about when she needed the room. I guess today she was too… distracted to tell me otherwise.
With only one shot for a little peace and quiet, I made a quick phone call.

"Mind if I stay over at your room for a few hours?" Two hours later I was at a desk, able to study for the first time today.

"Let me guess, Stacey brought around her boy-of-the-week club with her again."

"Yep". I closed my textbook, resting my eyes for a few seconds. I was in my best friend's room, finishing up my homework. Alex had been studying with me for the last hour, since she came home from her date; and obviously sensed that something was wrong.

"What happened? Did the jock for brains ask you to join in?"

I mentally debated telling her what happened, before giving up and deciding to tell her the truth.

"I met a guy…" Before I could even finish this sentence she whooped and jumped off her bed to hug me.

If you ever met Alex you would never be able to tell her personality just from looking at her. Tall, sarcastic, and with short spiky hair you'd never be able to tell she was a total girly girl. Although she avoided all things lace and pink; she loved flowers, romantic-comedies, cooking, and giving her opinion on everything. I waited for her to calm down before I told her the full story of what'd really happened.
When I was finished she just started at me with this giant Cheshire Cat smile. Talking in a sing-songy type of voice, she chanted: "Eve has a boyfriend. Eve has a boyfriend." Suddenly my headache came back, and I dropped my head on the table. Trying to bury myself in my papers.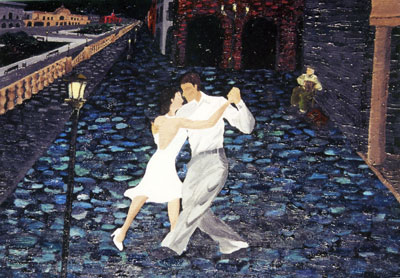 © Elizabeth M., Kannapolis, NC