Fate.
March 12, 2012
It was a dark and stormy night. Mr. Jenkins was sitting in his living room reading. His Golden Retriever, Sasha, was sleeping on the floor in front of him. The storm was getting fiercer by the second and the power soon went out. Sasha, frightened by this, stood up and began barking. "It's okay girl." Mr. Jenkins said, petting her comfortingly. He went into the kitchen to grab a flashlight but all the flashlights he found would not work. So he picked up a candle and a box of matches. "Come on," he said to the dog, "We have to go outside and check the power box."
He pulled on his overcoat and rain boots and walked outside. He walked up to the power box and opened it. He lit the candle and looked at the switches and wires. He found the switch for the old backup generator. But before he could flip it the wind and rain had distinguished the flame of the candle. So once again he lit the candle and was able to flip the switch and the power came back on.
He turned to go back inside but when he did he lost his footing on the damp ground and slid down the tall hill that his house was on. He tried to get up but he couldn't stand, so he had to crawl to the road. And as he was coming up to the edge of the road a car passed by. The driver stopped, backed up, and got out. It was a young man in a business suit. He came up to Mr. Jenkins and asked, "Are you okay sir? Do you need some help?" "Yes," he answered, "I fell down the hill and I can't walk." So the man pulled him up and put him in the car.
They drove to the hospital and the man, whose name was Thomas, got out and took Mr. Jenkins into the emergency room. He was yelling for help when finally someone brought him a wheelchair. "Thank you." He said turning to look at the person and seeing a beautiful young woman in a nurse's uniform. "Hi." He said smiling, "I'm Thomas." He held out his hand and she took it, "Rebecca." She replied, "What seems to be the problem here?" "Oh, I found this man on the side of the road." He informed her, "He said he fell down a hill and he thinks his legs might be broken or something." "Well let's just take a look. Why don't you wait here?" She responded, wheeling the old man off to an examining room.
When they were finished examining Mr. Jenkins, Rebecca came out and told Thomas that he had fractured both leg bones and received a small concussion, but he would be better after a few days in the hospital. They got to talking and Thomas asked Rebecca to go to dinner with him and she accepted. They continued dating and two years later were married. Then, a year and a half after that they had their first child. They named him Caleb, after Mr. Jenkins, who they stayed good friends with after the incident. Right after they had their second child, a little girl named Jade, Mr. Jenkins passed away. But Thomas and Rebecca always remembered him, because if it wasn't for him they never would have met and fell in love.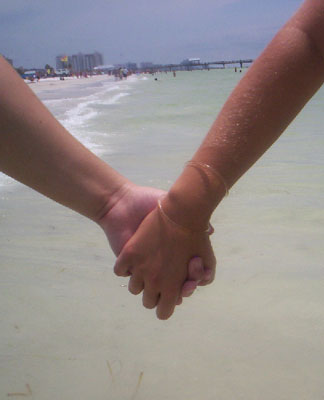 © Belinda H., Palm Harbor, FL