Don't Let Me Leave...
February 17, 2012
"Leave me alone!" shouts the voice of a young woman.

"Kaddie, please listen to me!" shouts the man running after her as she storms to the door.

"Don, no!" she says opening the door. Don stops dead in his tracks and begins to sob.

"Kaddie, please don't go!" he shouts before that door closes behind her.

"Then stop me!" she shouts back then the door slams. Don is shocked at first as he watches her car pull out of the drive way.

'STOP HER!' shouts the voice inside him, and he runs after her. She is already gone.

"No, no, no." he says hopping inside of his truck and tearing after her. The tears don't stop rolling down his face.

He rides by her mother's house, and she is there. He rushes to the door, and when her mother answers the door, he runs inside looking for Kaddie.

"Don! What are you doing here?" Kaddie asks in a shocked face. Don doesn't say anything. He slowly walks up to her and hugs her softly. When he pulls away, he kisses her lips softly.

"I don't want you to leave." he whispers when they pull away.

"But you said you did." she says softly with tears going down her face.

"I was stupid, and I'm sorry baby." he says kissing her forehead softly.

"I'm sorry too." she says beginning to cry.

"It's OK baby." he says softly rubbing her back.

"No it's not." she says hiccuping a little.

"Baby, it's OK." Don says lifting her chin with his fingertips.

"You didn't let me go." she says crying onto his shoulder. He softly brushes her long, red hair with his hand.

"Baby, I would never let you go." Don says looking into her eyes. She smiles and kisses his lips.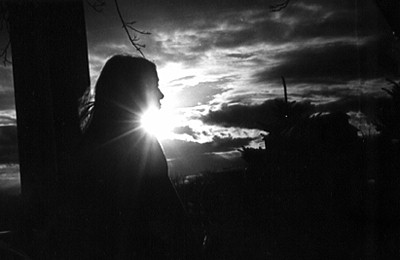 © Elizabeth G., Marblehead, MA