Left Behind
December 20, 2011
You know, no matter how much she'd ever laughed about it, she'd never really thought she'd die alone.

***

"I'm sorry. But I can't do this. I can't be with you anymore."

She stared at him in silence. It felt like a part of her was swirling away, far faster and more uncontrollably than she could ever handle. Something was tearing her insides apart. It hurt to breathe.
"What do you mean, you can't do this?"

He buried his face in his hands and made an odd noise, a cross between a sob and a sigh. "I – I can't be with you like this anymore. It hurts too much. I can't do it. I can't sit there and watch you just…" His voice trailed off, and when he looked up, she could see tears streaming down his face like raindrops on a window.

"Watch me die, you mean?" Her voice was harsh. She saw his shoulders begin to shake and cruelly relished the pain she was causing him.

"I –I can't watch you die like this. Not in front of me. I can't stand next to you every day and wonder when I'll get to stand by you again. I can't afford to lose myself by losing you."

"So you're going to abandon me?"

He dropped his hands in dismay, and his eyes pooled with tears. She hated that. She hated watching him cry like this. She hated that she was the reason he was walking away. She hated this disease that was destroying her one chance at happiness, this poison seeping through her skin and rushing through her veins.

"Don't say that," he whispered. "You know how much you mean to me." He took a step towards her as if to embrace her the way he used to, but then stopped. Torn petals lay scattered on the floor like shattered memories. "But I need to be happy too. I can't be attached to someone who won't even…" He bowed his head, unable to finish his sentence.

Something tightened in her chest. She began to breathe hard, and it felt like her spine would crack under the weight of the universe. "If that's how you feel, then there's nothing more I can say."

He stared at her and let the tears plummet down his cheeks. His hands were clenched into fists, and his lips quivered. And then, he said in a broken voice, "I'm sorry."

And with that, she watched her life walk away…forever.

***

The steady beeping of the machinery was hypnotic in a way; every time she closed her eyes, it provided a sort of rhythm to her thoughts. Beep. Laying her eyes on him for the first time. Beep. Laughing together in a dark movie theater. Beep. Watching him place a single white lily on top of her books. Beep. Falling asleep to the sound of his soothing voice. Beep.
Her eyes flew open and she gazed up at the pale green ceiling. It was suffocating, being in this cold, cheerless room without a chance of distraction. No one really had the heart to come visit her anymore, and even the walls seemed to murmur, "You're dying, you're dying, you're dying." Of course, she should have known all along that it would end like this. She'd be lying in a hospital somewhere, feeble and pale, weary with exhaustion and resigned to her fate. It had been foolish to ever have expected something different.

It had been foolish to think someone like him would have chosen her. After all, who would choose a lost cause? It was far better to distance oneself from such troublesome matters.

Still…it ached to remember him and all the things he'd ever done for her. The way he used to carry her on his back as if she weighed less than a feather. The way he would always draw her close to him when he was worried. The way he would always wake her up the same sweet way, no matter how heated the argument had been the previous night: "Good morning, beautiful. I'm home."

She sighed and rolled on to her side, already feeling her eyelids grow heavy again. She couldn't think about him like this, not when she should be remembering all the other important things that had ever happened in her life. Funny thing was, she couldn't remember much of a life without him…
When she slipped out of yet another dreamless sleep, she thought she could smell a familiar fragrance, a flowery and soothing scent. Something inside of her lurched, but she squelched the sensation. After a moment, she became acutely aware of a warmth along her back, but something in her forced her to stay still. She squeezed her eyes shut and willed herself to wake up, to come back to reality. He's gone, she screamed in her mind. He's gone and he's never coming back. She opened her eyes again, begging God to take pity on her and rouse her from her delusions.

But the warmth was still there.

And that's when it happened.

A hand swept her hair away from her neck, and a pair of warm lips touched the exposed area. She froze.

Haltingly, she turned her head to come face to face with him. He who had left her so many months ago. He who had broken the woman inside of her so badly that she had wasted away, lost and wandering in a barren wasteland of despair.
She tried to swallow, but her throat was suddenly dry. She couldn't breathe. She opened her mouth to say something, anything, but nothing came out.

He took his warm hands and placed them on either side of her face. His own eyes began to glisten as he used his thumbs to wipe her tears away. For a moment, not a sound was made, and the only thing she could feel was the soft caress of his breath against her skin. She was afraid the beautiful dream would vanish if she made even the slightest move.

He folded her into his arms and she felt his heart beating in his chest. Her shoulder trembled with the force of his silent sobs. His body heaved and quaked like the rolling earth, but still, the silence remained.
Then, in a softer voice than she had ever heard before, he weakly said, "Good morning, beautiful. I'm home."

And it seemed, for the first time, that he truly was.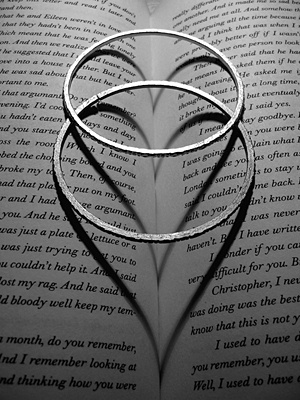 © Julia K., Old Tappan, NJ