Knives & Roses episode 1
October 7, 2011
Violet heaved her backpack as she stumbled down the streets of California.Her mind wondered aimlessly as she searched for her house.She lived alone.Her parents died only a year ago along with her brother.It was a horrid car crash.She still lives in her same house for now.Yet she is expecting to find an eviction or a CPA note on her door.Violet let out a long depressed sigh.It was hard to pay the bills with a low paycheck and the thought of her new high school only made it ten times worse.She was only sixteen!Though her birthday was tomorrow.

Violet snapped out of her thoughts when she accidentally bumped into someone."Sorry,"she muttered.He turned to look at her.A flash of recognition caught his eyes."Hey your that new girl at school right?"She backed away a little."Yeah,"she said shyly."Well hi,I'm Seth,and you are?"Uncertainty crossed over her as she spoke."I'm Violet."Seth smiled."That's a lovely name you got there Violet!"his voice sounded cheery.Suddenly she saw something flying right toward Seth through the corner of her eye."Watch out!"she warned.But it was too late.

Seth growled in anger as two guys on the other side of the street laughed loudly."I have to go."He said as he raced away.Violet watched him run off after those two.When he was out of sight she noticed it was about 8:00 at night.She began to walk home again.At about 9:00 she was a block away from her house.That was when things got bizarre.

Her ex-boyfriend Darrin pulled up in his white Mercedes.As he stepped out she began to walk faster."Violet!Come here!"he called out to her.She ignored it and just kept walking.Darrin huffed angrily as he raced after her.She tried to run but he grasped her arm."What do you want!?"she yelled in his face.An evil grin spread across his face."You,"his reply sent a shiver through her.Sh could smell the alcohol on his breath."You been drinking,haven't you?"she asked accusingly.His smile grew even wider."What does it matter?"he sneered.

She pulled loose,her eyes glinted with fury."Get away from me!"she ordered."Aw come on Violet,you know that I want you back,"his voice sounded teasing.She didn't reply,instead she took of running down the street.Her legs swiftly caring her away from Darrin.He stomped his foot in annoyance as he raced toward his vehicle."Help!"Violet screamed."Somebody help me!"She looked behind her to see that the white car was pursuing her.

It raced in front of her and stopped as the door flung open with great speed.She gasped as Darrin retrieved her arms behind her."Now if you can come the easy way,you wont be in pain.But if you choose the hard way I don't mind."His words pierced her like a dagger."Help!"she desperately screamed again.Darrin pulled out a pocket knife and held it to her throat."Now shut up and we're going to the car now,"he demanded.She thought for a minute and then chose to do something drastic...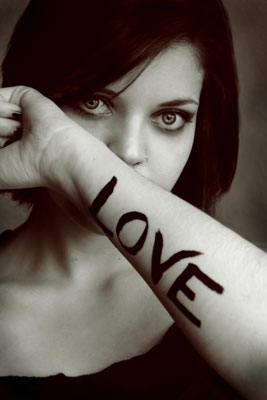 © Michelle B., Blairsville, GA