My Stupid Note
September 3, 2011
A chilled breeze swept by. It blew a note out of my hand and onto the park floor. The note then did that little dance papers have a way of doing when being taken away by a gust or breeze. My thoughts seemed to split into two as I thought about the aftermath of chasing after the useless little paper, or letting it go.
  So I'll chase after the petty note. I'll play a quick game of tug-of-war with the wind. I'll apologize to every person I'll run into while keeping my eyes on the note. I'll have bystanders' heads turn as they watch a crazed woman go after a trifling paper. I'll then look from the shoe up to the person who stepped on the meager paper to keep it from the wind's grasp. It'll be a man. He'll pick it up and hand it over, instead of reading it like any rude man would. I'll be surprised. I'll thank him, and since I'd never been good with men, I'll awkwardly leave. Or rather, attempt to leave. But this man will stop me, introduce himself, say a so-cheesy-it's-funny pick up line, ask for my name, smile, ask for my number in a slick way, I'll stumble out the digits, he won't call for what'll seem like weeks, then he'll finally call and make plans for- no.
  I stopped my thoughts in their tracks. My thoughts had left the station to think of the possibilities if I were to stalk the note, but had gone south to think of a bold love story which would, in fact, never follow suit. I'd spent quite some time lost in thought, yet the small note was still dancing the little paper jig in the same site, as if lying in wait for my ruling.
  So I'll let the note sail on the chilly breeze. I'll watch it flutter by the orange, brown, and red leaves on the parkland. I'll watch different shoes trample, pound, and squash, the insignificant little note. I'll smile as the note finally aviates up into the trees. I'll chuckle as a bird takes the paper in her talons, only to abandon it to the wind once again. I'll truly beam when someone finally picks up the sad excuse for a paper now, reads it, smiles, and tucks it away in their pocket.
  Flutter, flutter, swing, hover, flutter, wiggle, quiver. The meager note was still dancing away as I thought.
  I stood. Whether to leave the chilly park or to retrieve the paper, I know not to this day. But I didn't have to think any longer. A guy in his twenties it seemed, picked up the paper which most would reject to even take notice of. He grinned. It was a sweet grin.
  Listen, he said, loudly enough for half the park to hear, and holding up the note like a ref holds up the arm of a winner after a fight. I don't know who you are, or where you are, or just you in general. But this is…cute.
  As I'd said, I wasn't good with guys, so I sat didn't answer. Most everyone around and near stared at him, but I did not. I averted looking in his general direction and instead hurriedly destroyed my bag in search of something to keep my attention. And so he sat. Right there in the middle of the park's walkway full of couples taking a fall stroll. That's when I let a laugh escape my lips, and at the completely wrong moment, since he decided to look my way at that exact time. He got right up and walked my way. I was horrified. And as if to increase that horror, my bench had a number of occupants which consisted of: 1...me. I stood. He came and sat. I froze. I glanced at him, quickly, and saw his features. Not at all the most handsome man on the planet, but cute, very. Since I could not manage to simply leave, I sat. Uncomfortably close, and uncomfortably confident, he pulled a pen out of his coat pocket and made a mark on my stupid note. He then placed it gently in the air, letting it float down to my lap.
  At the beginning of my story, my note, was actually a simple to-do list. Only, the last thing to do...was a note in a way. The paper read this:

[x] get milk
[x] pay ConEdison bill
[x] walk Ms. K's dog
[x] get mail
[x] finish article by tomorrow
[x] get oreos
[ ] find decent guy

  Yet to my pleasure and surprise, the note. The stupid, useless, meager, insignificant, little note…was now fully checked off. Completed. As was I.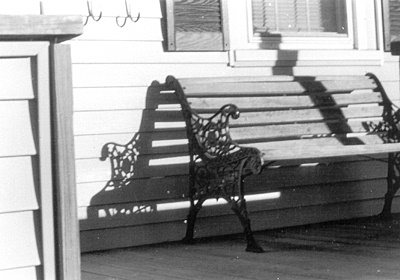 © Lauren O., Weymouth, MA