Unwanted, Unnecessary, Excellent Kiss
August 25, 2011
Please, take me back, Laurie. I need you. Pain tore through my chest as the memory surfaced again. I strained to keep my eyes open because I knew that if I shut them, I would see Evan sobbing at my doorstep with a nest of forget-me-nots in his hands. Seeing it for the first time had nearly broken me. The memory could only snap my shattering heart. But I could not take back the sweet-talking cheater.

I began to tremble. My hands shook as I heaved my books into my tote bag, making them spill messily into the bag. Class was over and students from my teacher's next class were starting to file in. My shaking legs didn't support me very well, but I had to leave before my fragile state began to catch people's attention..

I barely reached the door without collapsing. Thoughts of Evan were too heavy in my mind. If I could manage to avoid thinking of him on the walk to my next class, I would probably survive.

I didn't have that kind of luck. My sight was suddenly filled with waves of soft dark honey hair , warm cinnamon brown eyes, freckled golden skin and round, full, soft... loving lips. Evan.

What happened next was not an accident. As he eased past me in the cramped space of the doorway, our bodies so close that I could feel his warmth, his lips brushed against mine. There was no way his lips could have touched mine without his direction. He knew that a simple kiss would be all it took. My knees buckled and I fell to the floor, now treasuring the memories of the kiss rather then bottling it up and throwing it away. I could not let go. I was forever his.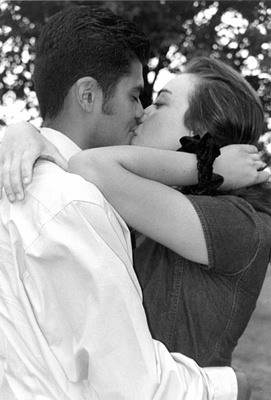 © Yaniris M., Boston, MA