Shall I meet you halfway?
August 13, 2011
Shall I meet you halfway? Who will decide if it is exactly half? I assume the miles counted and defined before us will give a notion of measure, oceans will expand and contract, the waves will scare me off wanting to stay put; but I still ask you one more time – do you want me to meet you halfway?

It is the end of the mango season and the ripe smell has turned into sunshine, the butterflies have left town to love in peace and I hear they are at the outskirts of the city, turning into caterpillars. Remember when I told you that story about the jar of caterpillars my grandmother collected for me just to show me the biology behind the poetry? I was nine. The two caterpillars lay side by side turning green. I fed them lemon leaves. They never ate in front of me but when I would wake every morning I would find little bite-sized holes on the leaf and it made me happy. I smelled like fresh limes and stared at the cocoons waiting for transformation. Twenty-one days later the butterflies fluttered their moss-olive wings. They met halfway turning into one, shared the same like, exactly in half. Shall I meet you like that? Halfway somewhere?

I hear it's also warm where you are. The streets breathe smoke and the smell of dry tar mixes in with popsicles. I hear you are learning to climb again – rocks and trees. Who is belaying you now? Checking your knot to see that you made a perfect figure eight? Holding the other side of the rope so you can climb on? Shall I meet you halfway?

Send me the other end of the rope; I will look out for it. Pull me in so I can free climb through smooth and bumpy roads where every step seems large some days. I will hold on to the rope and move through traffic jams, tie it around my right arm while the left waves goodbye to the returning crows in this city. Pull me in fast before the angry end of the sky starts to pour, pull me in will you, so I can meet you halfway?

And, no, I will not meet you in a quarter or full, and I won't let you come to where I stand. I want the middle; not foe balance, not for the comfort of being equal, but for re-establishing my belief that there is such a place called halfway and to reach it I need to be half more the
woman I am, and you too perhaps, giving up half of what we are so we can face the half and unite. Isn't that a great challenge, a perfect understanding? People are claiming there is no such thing; that there is no such point, so why don't we prove them wrong and meet halfway?

And when I do meet you there, even if it is a dump or the border of Kashmir, or the middle of Gaza, even if it is a tip of a pyramid, I will stand still and embrace you. Even if you show up as death or an old song, just promise me that you will meet me halfway.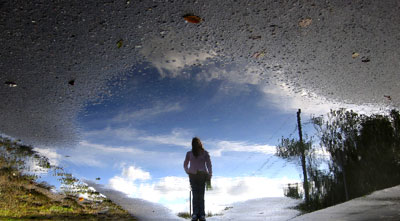 © Daniel H., Oak Bluffs, MA