Friends with a dead end
August 4, 2011
Once in awhile a pair of two friends becomes a friend and a lover.Elli and Kyle had been good friends since sixth grade and at first Kyle crushed on Elli but she did not have the same feelings but later down the rode she suddenly was bit by the love bug. They text a lot back and forth but when they did it was usually short and quick since he usually answered with an okay or Lol. The funny thing is, Kyle had feelings for Elli before she even really knew him. Elli became distraught a little more everyday. It never clicked in her brain to just ask him how he feels but she never had the courage to ask. Everyone was saying Kyle likes you and at that point she had to believe it. It wasn't like he didn't act like it because he did completely, he followed her around and was constantly on her about everything. It just didn't make sense to Elli for him to seem so obsessed with her but not show much feelings. After spending a lot of time together she finally built up enough courage to ask him if he liked her. Elli met up with Nicole to call Kyle behind the Central Park Zoo. Elli contemplated asking him because she had this bad feeling of rejection brewing but Nicole talked her out of it. Elli went with Nicole instead of her gut.

The phone began to ring and with each ring Elli grew more nervous by the minute.
" Hello?" Kyle said. Elli choked on her words and the phone began to static , until she was finally able to speak.


" Hey it's Elli, I have a quick question to ask you." Boom, BOOM, her heartbeat was racing and her cheeks turned redder.

" Ummm Okay what is it?" Maybe she should hang up she thought to herself, he didn't seem to interested.

" I like you a lot and I wanted to know if felt the same way." Her words tumbled quickly out of her mouth and she wanted to puke. Elli wanted to take back her words so badly but she knew she couldn't, they were already spoken and he had already heard. Nicole held Elli's hand for moral support but it was no use because the phone line was quiet.

" I have homework to do. Bye." That was it Kyle hung up the phone just like that. Elli dropped the phone and dashed across the park, leaving Nicole in the dusk wondering what happened. As Elli ran she cried but the tears were lost in the wind and Elli didn't care that peoplee were looking at her and she didn't care that she had just got rejected. Elli was heartbroken and hurt in all the meanings of the word hurt. Kyle had been the most important thing in her life and it was all over. All of those peoplee lied to her, making her believe he would like her. After the sadness had ran it's course rage set in. Kyle was a complete jerk who thought he could have anyone he wanted. The saddest part of all was he was nerd and being rejected by him made her feel so utterly ugly it was more hurtful than the rejection. Elli began balling her eyes out and she could do nothing to stop it, she was truly bleeding on the inside. Kyle had the nerve to call Elli again but she answered anyway. She didn't even say hello.

" I just want to be friends." Well after that little rejection, friendship was not her list. She didn't want him to hear her cry so she just hung up the phone and that was that. That night Elli cried and cried until her eyes were red and puffy. A few months later and she was still under his spell even after he rejected her. Kyle will probably never know how much she loves him.

Being friends is the best thing that happened to him but the worst thing to happened to her.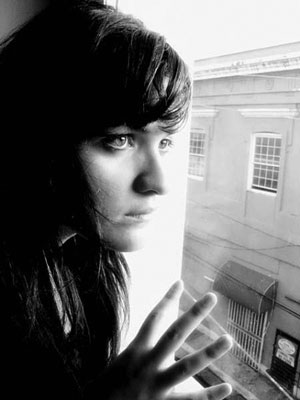 © Eveliz V., Bayamon, Puerto Rico