Sea Glass: Chapter 2
June 3, 2011
Chapter 2:
A Photo In The Garden



I got home around two and found my mom gardening in the side yard.

"Hey." I said.

"Hello. Go for lunch at Livery's?"

"Yeah, with Peter."

"Good. Now can you go get your sister up? I put her down for a nap an hour or two ago."

"Sure."

My sister is three. Her name is Amy. She has curly hair like mine but her skin is lighter. I guess she got more of my dad's DNA (he's Italian and has bright blond hair).

But when I reached her room she was sitting on her round rug, playing happily. The wall of her crib was down, evidently where she climbed out. I laughed and sat down by her and her blocks.

"Hey Amy. How was your nap?" She shrugged like a teenager who was asked about their day.

"I didn't nap. Once mommy left I got out."

"You know you can hurt yourself doing that."

"I know." She sighed a little toddler sigh. "But I get so bored…"

"Okay. I guess your getting too old for naps." She shook her head.

"No, then I don't get to play in peace." She sighed again. I laughed and smoothed her hair. My mom came up and when she saw us she laughed in spite of herself.

"I guess that little Amy is getting too old for naps." She picked her up and Amy showed her toothy toddler grin. My mom rested her on her hip.

"Okay. Let's go get some lunch. Oh and I got a call from Vanessa's mother. Vanessa will be back on Thursday instead of Friday." Today was Tuesday.

"Awesome! A day early." She smiled.

"Yeah. I'm already prepping her pineapple upside-down cake." My mom's pineapple upside-down cake was as good as Sally's lemon cake.

"Awesome. She better save me some."

"I can't imagine why she wouldn't." I grinned.

"I'm having pineapple upside-down cake on Friday." She smiled and walked down the stairs with Amy on her hip.

I headed to my room and looked at my computer and saw that the light was blinking. I opened it and found that Vanessa had emailed me. I opened the inbox and clicked on it to open. It said,

Hey Hailey,

I'm heading home on Thursday instead of Friday and I can't wait to eat your mom's pineapple upside-down cake! Then we can say hi to Sally at Livery's. I hope we can then see the flirt who haunts Susan and I can give Peter "the talk". I can't wait! I'll see you Friday!
Your Traveling Friend,
Vanessa


I laughed at the "Vanessa" remarks. I began to reply and made a mental note to warn Peter.

My Traveling Friend,

You're coming home! I can't wait to show you the flirt and eat the yummy cake! I'll be sure to warn Peter about "the talk" and make sure my mom gets baking immediately. I'll see you Friday.
Your Stay-At-Home Friend,
Hailey


I then headed to the large shed in our backyard to where my photo developing studio with a roll of film. I began the long but enjoyable process of developing my pictures from a few days ago. It was a few landscaped and one of my sister playing in the garden like one in a postcard.

When I was done with that one I was so glad I had taken it looked amazing. I went back to the house to scan it onto the computer so I could edit it and make it black and white.

In the end I used the pop color feature and made her shirt color pop and the rest of the colors were black and white. It made seem to glow. I printed it out and showed my mom. She loved it and stuck it on the fridge, an equivalent to my kindergarten artwork. It looked awesome up there. It was fitting.

***


That night I was watching the ocean from my window when I saw someone walking on the beach. I grabbed some binoculars that I used when birds flew over. I zoomed in. The person had dark hair and blue eyes. I focused a little then laughed. It was Peter. I opened my window and called down. When he heard the window opened he turned around.

"Hey." I called. He laughed.

"Hey."

"Can you come down?" I considered and shrugged. He glared at me for my fake indecision.

"Okay. I'll be right down."

I crept quietly down the back staircase and down the porch steps to the sand. The sand felt nice in between my toes. I turned around quickly to see no one had seen me go out of the house. But it was only ten, my curfew was eleven. It was fine, my mom wouldn't even care.

Peter and I walked down the beach slowly, talking about college, senior year, and what we would do when Vanessa got back. I warned him about "the talk" and he made plans to steal some of her cake for revenge. I laughed at that and he put her arm around me. I leaned into him and too soon, he walked me back to the porch. I kissed him on the cheek and crept up the stairs again.

***


The next morning I lay in my bed thinking about that night. It was like something out of a dream. I sat up and looked around my room. It was still only five in the morning.

I should probably tell you what my room looks like. My room is filled with distressed furniture that I had found in the attic last summer. I painted it light green and my window seat has a light blue cover. I had put some white curtains around the windows facing the ocean so I could pretend I was in Hawaii if it didn't rain so much. So it only worked every once in a while.

The sadness of living on a cold beach.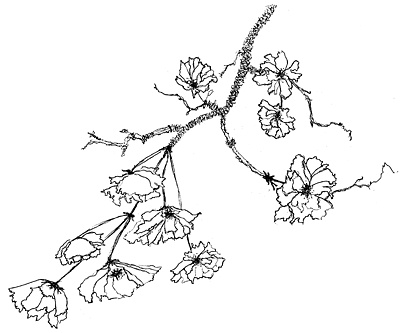 © Marybeth L., Hamilton, NY