Happily Ever After
July 21, 2011
I always loved watching those predictable romance films. I loved seeing the characters and instantly knowing at the end that they were going to get married and live happily ever after. Life, unfortunately, is not like that. Not everyone gets a happily ever after.

It was like one of those chick flicks. I met him, we became friends, we reunited a year later, and I realized I was in love with him all that time and I didn't know where to go from there. I waited. I waited for him to show the slightest sign that he loved me too. But he never did.

Fast forward through the middle. It's the last day of school, and the end of our movie. I tell him that I'm going to miss seeing him every day. He tells me that he'll miss me too. Then it happens. He takes my hand. A jolt of electricity that I was sure both of us felt shoots through my body. We look at our joined hands, and then back at each other's faces.

"Whoa," is all we can say. Then something else clicks in our heads. Suddenly we are a lot closer then we have ever been. Suddenly I feel his hands around my waist. Suddenly I feel my arms going around his neck. Suddenly I feel our lips touching. And I get my happily ever after.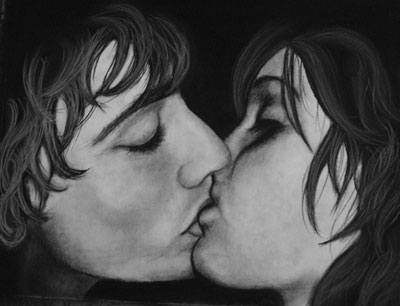 © Anna Y., St. Robert, MO