Operation Twix Bar
July 14, 2011
I rubbed some shimmer under my eyes, leaning in towards the mirror at my vanity in my bedroom. Clara was waiting for me to do her hair.


"Tawny, I don't think that Tinkerbell was obsessed with her makeup. C'mon, hurry up. My hair will take forever." Clara said, tapping her fingers on the vanity counter.


"Clara, I think that having an accurate costume is best. Just hold on. I'm almost done." I said grabbing some glitter to put on my chest.


"Well if my hair is down then I definitely won't look like Princes Leia. I'm already not going to with my blonde hair." Clara pulled at her hair. "Why did I let Alex choose?"


"Could you please just settle down, it'll be fine. I'm pretty sure Alex is used to waiting for us."


"What about Becky?" Clara said, saying 'Becky' in a high pitched voice.


"Becky? You have got to be joking me Clara. Don't call him that." I said with a tone of finality in my voice.


"You know I'm just teasing," Clara said as she pressed the NEXT button on my iHome. She found a song she wanted to listen to after having pressed it at least thirty times. The song ended up blaring, along with Clara singing out of tune, and a few beats behind. It was "Paparazzi" by Lady Gaga, one of Clara's favorites.


"Clara Adele! Lower that!" I exclaimed as I bobby pinned my short blonde pixie haircut wig.


Clara reached over to the iHome and lowered the volume, still singing along.


I looked at myself in the mirror, deciding I looked as much like Tinkerbell as my green eyed-auburn-colored-hair self could. "Okay, Lady Gaga Number Two, I'll do your hair now." I said getting out of the vanity chair.


Clara took my spot in the chair. I began combing her hair, wishing Clara would relax. "Why are you so giddy-like tonight?"


"I don't know," Clara said, "I guess I'm just excited."


"Why?"


Then again, who wouldn't be excited for free candy? But I doubted that was the reason.


"He's going to kiss me multiple times tonight."


"And you're so sure of this why?" My stomach tightened, I didn't tell him to do that. I just told him to ask her to Homecoming tonight. Directly below us in the kitchen in the refrigerator was a single red rose with an orange ribbon around it, and next to it a Kings Sized Twix bar that had a message spot where in his best script, Alex had wrote "HOMECOMING, PLEASE?" My mom had made sure Clara hadn't seen it whenever Clara wanted something from the kitchen. I also wasn't sure how much I wanted to see my two best friends kissing.


"I just think so. I mean, odds are he'll hold my hand, so what more is a kiss? And anyways, he's kissed me once before"


"Clara, it's not necessarily like him to kiss someone before he's officially dating them. Please remember who we're talking about here. Alexander Wilson."


"I know, but I think he will."


I didn't think what I was saying to her was sinking in. "Okay then, Clara Adele."


"So have you and Beckett gone over color schemes and such for Homecoming?"


"No. He's been busy. He had swim practice yesterday, and then had to go to his cousin's birthday party."


"You could've texted him."


"No, it's best I didn't. His parents are strict about texting and stuff."


"How long is his swim practice?"


"Depends on the workout. Two to three hours most the time I guess." I said pinning a braid into a bun like Princess Leia's.

"So for let's say three and a half hours out of the day, he couldn't text you. Hmmm, that leaves twenty-one other hours."



"Clare, he was at a family function. I wasn't going to bug him."


"How old is the cousin?"


"Like eight I think."


"He could've walked away from a bunch of little kids for a few to text you."


"His parents wouldn't let him."


"That's strict." Clara would rather be able to talk to a guy at any time, then talk to him all day, she was controlling.


"They're a strong family unit. It's nice." I said, wishing my family could still be like that.

"Oh, I see." Clara said.


The song changed to "Stay" by Sugarland, a song that opened the wound of Quinton cheating on me, and my dad having an affair. "I'm definitely changing the song." I said, pressing the next button. My iHome began to play "Lost In Stereo" by All Time Low. "That's better."


"So are you and Beckett ever going to start dating?" Clara asked.


"Clara, we've only had a thing going for like three weeks." I said, "It's not like we've had something going on for months and just never have become official. You and Alex have been flirting longer."


"Have not!" Clara said like she was outraged.


"Yes you have. But it was less obvious."


"You're joking me!"


"Nope. I'm not."


"Well then, if it was less obvious, how did you know?" Clara said, I could see her peering at me from her reflection in the vanity mirror.


"Clara, I've known you guys for seven years, how am I not supposed to notice these things? And I never said it wasn't obvious… it just wasn't as obvious." I said with a sassy tone, "There's a difference."


"Yeah, a lot of people have asked if you and Beckett are dating."


"I hope you say no…" I said, imagining Clara telling others yes we are and that we're such a cute couple.


"Of course I did!"


"Okay good."


"Why would I lie and say no?"

"I dunno… for dramatics?"


"I am so not that
dramatic!" Clara batted her eyes at herself in the mirror.


"Says who?" I said pinning the braid like Princess Leia's.


"Everyone."


"Don't kid yourself." I
was glad that Clara was in a good mood to let me tease her like this, even though it was true. I grabbed the brown wash out spray hair color and went over the Princess Leia buns with the brown spray. "Voila!" I said putting everything away.


"Dang, you should be a hair stylist." Clara said looking in the mirror and lightly touching the buns.


"Oh yeah, and make like nothing in profits." I said putting on the fairy wings.


"So, you'd be really good. So you'd get a lot in tips."


"Right." I said, getting sidetracked. It was time for "Operation Twix Bar", as Alex had begun to call is, to start. Even though it already had started somewhat. Clara had gotten here late, conveniently which gave me time to get in my costume and get ready before her. I told her not to change because I might need her help with my makeup.


Clara got out of the vanity chair and put on her costume.


"Well, I'm going to go downstairs. Just meet me down there in the kitchen." I said closing the bedroom door behind me.


I went downstairs as quickly as I could. Alex was in his Luke Skywalker costume, sitting at one of the kitchen counter stools with Beckett who looked like a curly hair black haired version of Peter Pan.


"Alex, she's getting in her costume. Get the stuff out of the fridge." I said, then tossing Beckett a smile.


"Okay," Alex said rubbing his hands together, biting his lip nervously.


I walked up behind Alex and rubbed his shoulders, he jumped a little. "Alex, calm down. She'll say yes. I'm sure of it." I said as quietly in his ear.


"My hands are sweaty. She'll never want to hold my hand ever again."


I had always known that Clara thought that was disgusting, but I had to reassure him. "Alex, just calm down. She will. I promise."


"I hope you're right." Alex said grabbing the rose and the Twix bar.


"So stand at the entrance to the kitchen. She's bound to come in here." I said sitting in a stool at the counter, easily taking Beckett's hand.


My mom came into the kitchen from the office, camera in hand. I knew we in for it before she even opened her mouth. "Oh my goodness! You all look so cute!" My mom cooed.


"Thanks," we said.


I could hear Clara coming down the stairs. She wasn't that graceful or quiet coming down the stairs.


Clara saw Alex with the rose and Twix bar. Her eyes danced, her smile slowly growing.

She stood about a foot away from Alex. He bit his lip, "Um, Clara, these are for you." He offered her the rose and Twix bar.


"Thanks" Clara said, accepting them. "I love Twix bars!" She inspected them, and then saw Alex's handwriting. Her jaw dropped a little.


"So, I was curious if you wanted to go to Homecoming with me?"


Clara squealed, "Yes!" She said hugging Alex tightly and then kissing him on the lips.


My mom stood off to the side, like a paparazzi, taking pictures of them. I felt bad for them having to deal with my mom who was so picture obsessed.

Alex looked over his shoulder at me and winked, then gave me thumbs up. I smiled at him in approval. I was glad I was right, knowing he had nothing to worry about. Clara reacted bigger and better than I expected.


I kissed Beckett on the cheek, trying to be spontaneous. "You make a cute Peter Pan," I said winking at him. "But I feel like I should've been Wendy. I'm wearing so much makeup."


"That's alright. You're beautiful, like always."


"Thanks Beckers," I said.


"All of you get together for a group picture." My mom said pointing towards the fireplace in the family room.


We grouped up and took some pictures full of cheesy smiles. Then we each had to pose for couples pictures. Then Alex, Clara and I had to do a best friends picture. Then it was just me and Alex, and then it was just me and Clara. Then we did individual pictures. By the end of it all, our cheeks were beyond sore. "Just wait 'til Homecoming… it'll be worse," I warned Beckett. He just chuckled.


At six forty five o'clock my mom finally handed us all pillowcases to fill up with candy. "Have fun, kids. And be back by nine!" My mom said as we left.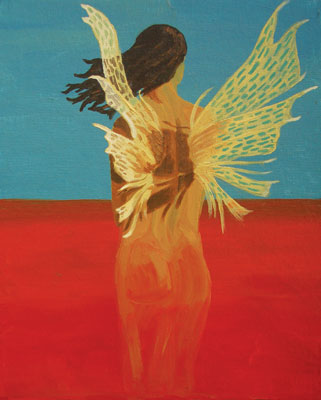 © Allison F., Langhorne, PA