Warning Label
June 18, 2011
They should put a warning label on you. People have to be aware that you might look at them with your big chocolate brown eyes with a look that will make them melt. I know that's what you did to me.

It's only fair that people know that when you run your soft fingers through their hair, the world stops spinning. And when you whisper in their ear, they become yours forever.

It doesn't matter that you're three inches shorter than me. When you look at me with that crinkly eyed smile or that crooked grin I feel as if I shrink before you and your fantastic features. How, may I ask, can only the slightest glance make me feel so much?

It's funny how no one fights me for you. I figure that, since you are what everyone is looking for you, I would have to put up a fight just to get near you. But I don't. How, how on Earth is it possible that I am the only one that sees you for the perfect person that you are?

It simply amazes me, each and every day, that the feelings I have for you are matched with the feelings you have for me. How did I get to be so lucky? What amazing thing did I do to deserve such a wonderful gift? I fear that it will be taken away from me, and I will lose you. But you always come back. Is it really possible that you love me too?

I can't help but feel happy when I'm near you. I would do anything just for another moment with you. I would do anything for just another second of your hand in mine, your fingers stroking me, you other hand gently caressing my face.
When you kissed me the first time, it felt as if time just stopped, and it hasn't changed a bit. I worry that I will suffocate from the lack of air, since I can't breathe when you are that close. But it just feels so good that I wouldn't care if it killed me.
I love it when it's just the two of us, no one around for miles. I feel as if all the moments in-between being with you are just moments wasted. I never want to be without you. I love you.
No one deserves someone like you. I know I don't. But I don't care if it's not fair. It's too good to give up. I don't think I could even if I wanted to. Not that I would ever want to.

They should put a warning label on you. It should say something like WARNING: if you are not prepared for a lifetime of happiness, do not come any closer. But I'm glad you don't have a warning. That would have just lessened the full blast of your perfectness and love.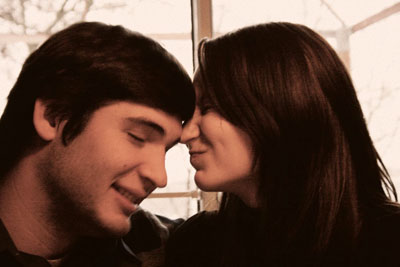 © Hannah L., St. Louis, MO