Within These Words...
June 20, 2011
Oh, what a beautiful day it is! Strolling around the neighborhood with my iPod in hand is the perfect way to soak up this gorgeous, afternoon sun. The trees are lush, and the flowers in vivid shades of pink and yellow are just beginning to blossom; I couldn't ask for a more perfect day. My songs are shuffled, when suddenly, I hear it.
The first four beats to that one specific song ring like a bell in my ear. It's the tune that transports me back to a starry summer night: the melody that takes me back to you. I dredge up that evening as if it happened an hour ago; I'll never forget a single detail. My red shirt, your BMW henna tattoo, my room key, your contagious laughter. The memories of August the eleventh rush to view within seconds. It's amazing how just one song could trigger such strong emotions, isn't it?

The beat continues. I contemplate skipping the infamous Aaron Carter song, but I need to feel your presence. After almost a year, you'd think I'd be over you and your charm and your games, but I just refuse to shake you off. Nothing in this world can change what you've said and done. I know I'm just a ghost from a distant dream in your eyes by this time, but to me, you're still the world. You've tattooed words and songs onto my heart. It will never fade: they're permanent.

The words join the melody. The ever-so-familiar scenery of Chestnut Lane fades to the Northern Lights on the m.s. Noordam, somewhere between the tiny island-nation of Malta and the Italian coastline. The lights are dim and the screen from which we are reading is lit up a neon green color. My microphone is in hand and a giant smile is sprawled across my face. These unfamiliar lyrics to an ancient song are blown up across the wall. I'd do anything to be back. The room is blaring with the clamor of drunken passengers and music from the early 1990's. It's the kind of noise that causes you to feel invincible, the sort that triggers fearlessness. If it weren't for this indescribable vivacity, I don't think I'd ever accept to your interesting offer…

Aaron Carter's angel-like voice can be heard for miles and miles. The tears begin to slowly trickle down my face. In the particular instances such as these, I wonder how you are. How's California treating you? Hopefully well. I only wish you the best. I don't have a clue to where you could possibly be; you dropped off the face of the Earth.

The chorus starts to play as if the track were on a broken record. "I want candy. I want candy." Hot tears are streaming down my brightly flushed cheeks. At the time, the words to this song were completely and totally foreign, but now, the lyrics are forever engraved in my brain. I resume belting out the chorus. With every word, every beat, a new memory sparks yet another question that I wish you'd answer. How could you, a drop-dead-gorgeous boy who clearly has his choice of ladies on a daily basis fall for me? I'll never know the true and honest answer to my burning questions, but my best bet might just be to continue fantasizing.

As much as this aria pains me, these words also bring back the smiles, the laughs, and the good times. It transports me to a time when the living was easy and the summer sun was sweltering. This simple song carries my thoughts to a moment in time when my only concern was losing a chess match or burning under the Italian sun. The complex handshakes, the crystal-clear night sky, your cozy sweatshirt, the shooting stars. No matter how many thousands of miles separate us, I'll always cherish the reminiscences of our incredible time together.

The beats to this timeless tune are slowing rapidly. This is the end. We haven't talked in how many months now, three? Or is it four? I don't even bother anymore. I refuse to live my life in sorrow and regret. Sure, had a blast running free under the cloudless Mediterranean skies with you, but I'm finally ready for tomorrow. Some people live their lives in the past, reflecting on the unforgiveable slip-ups they'll never forget, but what's done is done. Of course I would have changed a few minor details to some choices I had made if the opportunity was mine, but it's not. This is now, and the world has so many possibilities open to me. I'm ready to face the rigorous obstacles life has in store for my future. I've lost my grip. I'm letting go.
I wish you luck in whatever you chose to pursue, and if your radio happens to blare this familiar beat, all I ask is that your mind wonders off to those fairytale-like nights. No need for tears; a little grin will do.
Maybe, a serendipitous event will occur, causing our eyes to meet once more. Maybe we'll forget about your sweet smile and beautiful hazel eyes. Who knows? Locating you again, however, will be like uncovering a needle in a haystack, like finding Nemo in the Pacific. But guess what? I've called off my search; I've left fate in charge of my destiny. I know it won't do me wrong.
Have a good life. I'll never forget you.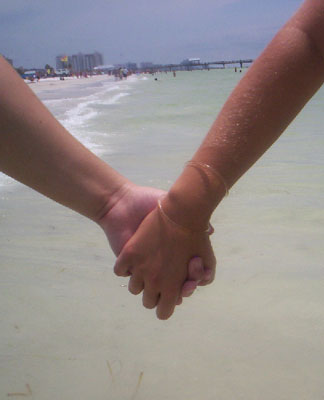 © Belinda H., Palm Harbor, FL