Take a chance on Me
May 1, 2011
Monday nights are always exhausting. Teachers must feel guilty about giving everybody two days away from school so they decide to all bombard the students with all this homework.
Tap Tap
What's hitting my window. Stones, typical. That Jack won't give up on asking me out. Don't really know what he sees in me though. Other than the short girl who fills all her time with extra-curriculars and academics.
I open the window this time to find him hiding something behind his back.
"Are those flowers?" I ask a little flushed.
"Nope, you said to give up on bringing you flowers. So here," he pulls the thing from behind his back and holds it up above him. "Celery!"
I roll my eyes and giggle a little to myself at the gag.
"Jack, it's one in the morning. I'm afraid I can't let you come up here. You'll wake up my parents!"
"Then come down." He said a little teasingly. "Repunzel, Repunzel, hair so fine. Come out the window, climb down the vine."
I look down at the unsafe climb it would be.
"Jack, I'm on the third floor. That's not happening." I start to close my window.
"Wait Victoria! I haven't even asked you yet."
I role my eyes and try to imagine what creative thing he's come up with next to ask me out. Last week it was a sign in my locker, the week before it was a poem (cute limerick) he posted on my facebook wall, and the week before that he just straight up asked me.
I look down to see if he came up with anything yet to have my view blocked by a floating balloon coming up to my face. I take the balloon and examine it. At the bottom of the string, the balloon carried a little box, and inside it held a movie ticket and a note. It read:
Victoria, will you take a chance on me?
I could say this was my favourite attempt of him asking me. I turn the note around and write something on the other side of the note.
Only if you tell me why you wish to take a chance on me?
I threw the box down to Jack who awaited the return of it anxiously. He read it and shook his head in disbelief. He then shouted up to me:
"You're beautiful in any way a person can be. And it's real beauty. It's not fake looking, it's not covered in make-up or materialistic crap. You're real, and a guy needs to appreciate that in order to deserve something as amazing as you. If you say yes to take a chance on a simple and real boy like me, I promise to be that guy that makes you feel beautiful every minute of everyday."
A long and enchanting stare takes over him and I.
I poke my head out the window and look to my side. I see a lone vine that goes from my roof above me, way down to the ground Jack stood on.
Something impulsive takes over me. I grab the vine and ease myself out the window and onto it.
"Victoria...what are you doing?" Jacks asks a little alarmed from below.
"I'm climbing down the vine, what's it look like?" I shuffle my way down and then finally establish a better grip onto the windowsill of a unit on the second floor.
"Victoria this is crazy." Jack moves a bit closer to the vine with his arms outstretched in case he needed to catch me.
I try ignore him and focus on shuffling down the vine. If I can just get my foot on that-
"AAHHH!!" I scream as I come tumbling down and then land with a thud.
I open my eyes to find myself in Jack's arms still outside my apartment building. I look up at his face. I don't think I've ever noticed before how deeply beautiful his big brown eyes are. He notices me staring at them and kisses my forehead. His lips are so soft and soothing. It became a craving to have them on my lips as well. I put my hand on his cheek and pull myself up to his face to lay my lips on him.
" I guess I'll take that as a yes to the movies." He said with a cute grin.
I smile too. Because how could I not smile? I'm in the arms of an amazingly real boy that taught me to take chances on people. Because they just might be your knight in shinning armour.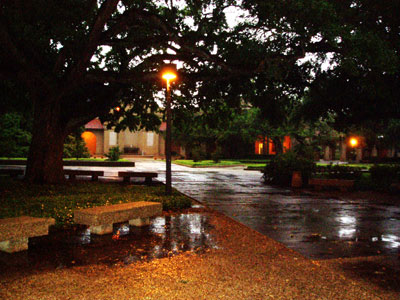 © Dooly P., Baton Rouge, LA